--Today I rode over to the last of the Pilarcitos Cross races in the park.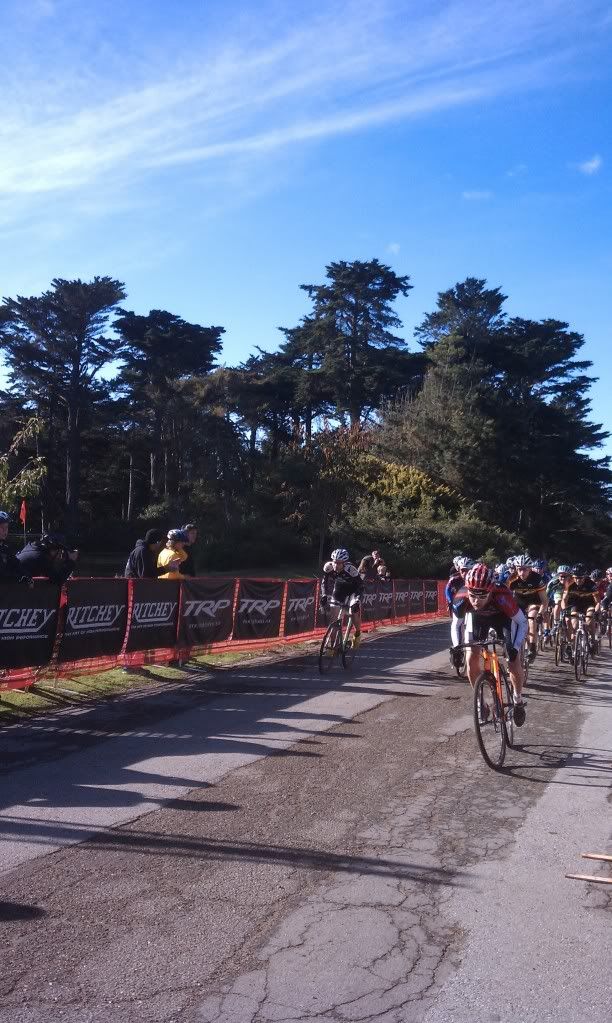 Saw some buddies, hung out for a bit, then on the way out I stopped by the Sram pit. I had been having issues with my right shifter for a while so I thought I'd get it looked at. An hour later I left with a brand new right shifter. No joke. The guy replaced the cables and housing, then put a new shifter on. I was shocked.
I've been hooked on Sram since I first tried it but this type of customer service is what keeps me coming back. If you haven't tried Sram yet, I definitely recommend it.
--This Thanksgiving I headed south from Half Moon Bay to climb Tunitas. It was super cold out, by bay area standards. I threw on my thermal jacket and two sets of knee warmers and was set. About a month ago I was going to send my thermal jacket to Dylan (braving the NYC winters) but luckily I held onto it. I've been using it a lot lately.
Speaking of winter gear, I recently bought a few pairs of DeFeet Wooleator socks. They feel really nice but honestly they don't seem to have any effect. My feet don't stay any warmer wearing them. However, I did buy a few pair of Sock Guy wool socks at Interbike and they work well, although they don't feel as good on your feet. The warmest socks I've worn are a pair of Capo socks. They're so warm I don't wear them on warm days. I bought them off eBay so I have no clue the model. I digest.
Despite the cold it was super clear out and the sun was shinning. Once on Tunitas I passed this sign: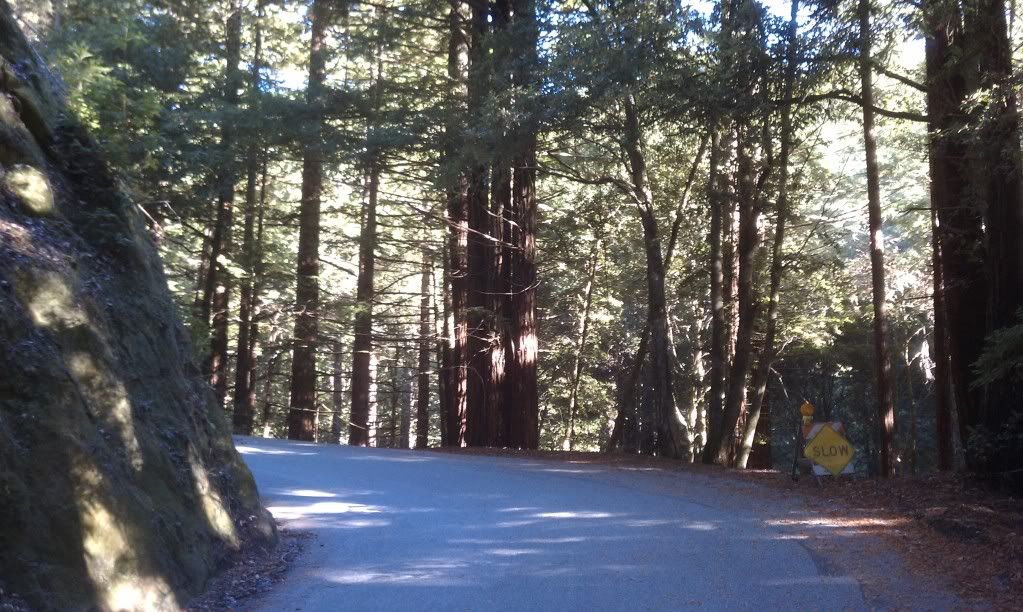 Clearly someone knew I was coming. I headed up and about halfway to the top a kid in USA bibs and Trek-Livestrong jersey passed me. I put my camera away and rode up to him. His name was Charlie Avis (@charlieavis) and he rides with Trek-Livestrong as well as the USA team. He's from Palo Alto but goes to school at Princeton.
We chatted about some of his teammates, King (@BenKing89), Phinney (@taylorphinney), and Williams (@JustinAWilliams). He was bummed about the recent
cancellation
of the Paris-Roubaix Espoirs. Phinney won the last two years and with him headed to BMC and King going to RadioShack, there's a spot open. We also talked about Lance. He's met him a few times and ridden with him.
We rode together to the top. He headed down Kings and I headed back home. Cool kid. The rest of the ride was nice.
--On Wednesday I was riding up to the Legion of Honor after work when I broke a spoke. Luckily I was riding uphill so I wasn't going that fast. I've been riding a pair of HED Bastognes for the last few months. I thought, given the name "Bastogne" they might be, you know, tough enough to handle a bit of wear. Apparently not. I should say I weigh between 145-150 so it's not like they were under that much stress. I've emailed HED for a replacement. In the meantime I'm going back to a pair of Mavic Open Pros. No frills, no problems.
--I started posting pics to my
Tumblr
account recently. I regularly send pics from rides to my grandpa and friends so I decided to put them all in one place.
--When I went home Wednesday night, post-spoke breakage, I took my spare wheel with me, a tire, and a tube. The next morning when I was putting the tire on the spare I realized I had left my pump at home. I dug around in my saddle bag and found my
presta adapter
. If you don't have one of these it's definitely worth buying. I've used these in a pinch more than a few times.
--Looks like Stybar is headed to
Quick Step
! I'm really excited to see what he can do in the PRO peloton. Niels Albert on the other hand,
thinks
it will just distract Stybar. He's probably right, though.
--Hushovd didn't receive any increase in his
contract
after winning Worlds. He says that Garmin was all out of budget. To Garmin's credit, they are combining the heavy hitters from two teams into one budget for 2011. Hushovd says "It's just the way it is, so I'm not going to waste my time and energy to dwell on it. It's just part of the risk when signing a new contract early." Props.
--The Gent Six Day is well under way. They've been trying to do doping controls between races to the chagrin of the riders. Ilyo Keisse, who himself was caught doping a few years back, is one of the
vocal
ones. He likened it to doping controls in a feed zone.
--The Worlds course is possibly under attack in
Copenhagen
due to, get this, the traffic closure. The city council has yet to decide if it can shut down traffic for three days. Cars, cars, cars...
--This is pretty sad to see, a Masters racer in Michigan has been
suspended
for EPO and another Masters racer from Colorado has been
suspended
as well. I think both of these have come out because of Joe Papp's online store getting
busted
. These guys probably bought their EPO from him. (John Chodroff also bought EPO and subsequently
confessed
after Papp got caught. He also quit cycling altogether.)
All three were doping in amateur races (Chodroff was PRO but only doped on his way to PRO-dom).
--Lately there's been a lot of huff about the Cervelo lawsuit with Canyon bikes. I was a bit worried but according to
Cervelo's response
it's not that big of a deal. Apparently the original article got a bunch of stuff wrong.
--Speaking of lawsuits, remember those flying squirrel
skinsuits
Garmin wore this year at the Tour? Well Pearl Izumi is
suing
Garmin for failing to return ten of them. The skinsuits were prototypes and Pearl is worried Garmin is sharing them with Castelli, its new apparel sponsor. Or more likely, they just tossed them after they used them.
--The other day I tried out the Stack Overflow site for
cycling
. Stack Overflow is a startup with question and answer sites for math, coding, and other topics. The site has some pretty good questions and answers on it. Much better than Quora's questions on cycling.
--The other day I stumbled upon two classic Velocity Nation interviews. The first was with
Mike Friendman
when he was on Garmin. I was trying to find the pic of his license plate on his bike that says "Meatball."
The other interview is with
Levi
. It's funny, they ask him if he's ever heard of the site. Then, they mention "Toto" (their comic strip that regularly makes fun of him and Lance). They also talk about the Astana exclusion from the 2008 Tour. Good stuff.
--I'll leave you with a hilarious quote from an
interview
with Toby Watson, Garmin physiologist.
"I'm not sure if it was a violation, or adherence above and beyond the call of normalcy, but Pozzato having a spare set of sunnies in his back pocket was a hilarious display of the cliche of the poseur Italian. He hit the deck very hard in one of the Dutch stages of the Giro, and took ages to get back up off the ground, let alone onto his bike. He faffed around for a while with his helmet off, checking his hair was alright, then gingerly got himself back in the saddle, rolled up the road through the convoy and pulled another set of sunnies out of his pocket. Absolute gold."
Tweet