--Lately I've been thinking how boring cyclocross news is but this
pic
changed my mind:
I love the guy leaning into the other sprint style. Those guys are climbing the
Koppenberg
at Koppenbergcross in Oodenarde, Flanders. I rode up that berg while I was in Belgium
last summer
. I had ridden out there with some of the guys from the bike house. I remember seeing the signs for it and thinking I'd propose a little game of "last one up buys espresso." Before I had time to decide if that was a good idea Evgeny, 18 year old from the Russian national team, was halfway up it and Steve was a quarter of the way. Nevermind.
The roads were dry but the cobbles were so smooth I had to stay in the saddle the whole way up. I tried standing a few times and slipped. Belgian bergs mean business.
--Good news! I have it on the authority of neo-PRO
Lucas Binder
that the
foot bags
work for rain riding. In his words:
"I also tried the plastic bags on the inside of my shoes for when it is wet
and cold outside. Well I guess it has to be really cold, because they kept
my feet dry at first but after a while I started to sweat and the bags
filled with it and got kind of gross. Better warm and wet than cold and
wet though."
He also tried out some of the
rice cakes
and they worked. I've never actually made them but he says they're good, just don't put garlic in them. Garlic not good for long rides.
--I've been wanting to write a post on "Freds" for a long time now but have yet to do it. Seems by the time I'm ready for a new blog I've already got enough content to do without it. So, in the coming weeks I'm going to write up a full expose on "Fred-dom" and I need your help. Please post any and all "Fred-icators" in the comments. I've also posted this on
Quora
for those of you on there.
--Looks like Felt is heading back into the
obscurity
. They've partnered with the Peanut Butter and Co. women's team. If you just said, "Who??" you got the right answer. I love women's cycling, I believe in it, but it doesn't sell bikes.
--Cancellara
says
the Contador signing affected his decision to go to "Team Luxembourg." This was circulated around the time of the signing, that he would probably leave Saxo because it's hard to have both a top GC team and a top classics team. I don't blame him but it will be unfortunate if Contador is banned. It would have been cool to see Fabian on what would have essentially been "Team Sparta." That being said, it's also cool that the team, which I really like, is basically staying together.
--Speaking of ex-Saxo Bankers, it comes as no surprise that Stuey has
made the jump
to "Team Luxembourg" as well.
--In other transfer news, Mick Rodgers has
signed
with Team Sky. It will be cool to see what he can do for them.
--Looks like Cav is already scoping out next year's
World's course
in Copenhagen. Don't get me wrong, I think being prepared is 95% of the battle. But a year early? Besides, I thought he goes to Paraguay in the winter...
--Apparently there's a road race in Cameroon right now. I think I saw some pics on Cyclingnews but here's a
blog
by one of the guys riding. It looks pretty intense.
--I'll leave you with this ironical
pic
of the butchers in Pinto...
--Oh wait, as if that wasn't enough. Here's a pic of me that some guy took at a kermis last summer. (As you can see I was skeptical of the Flemish barbers...)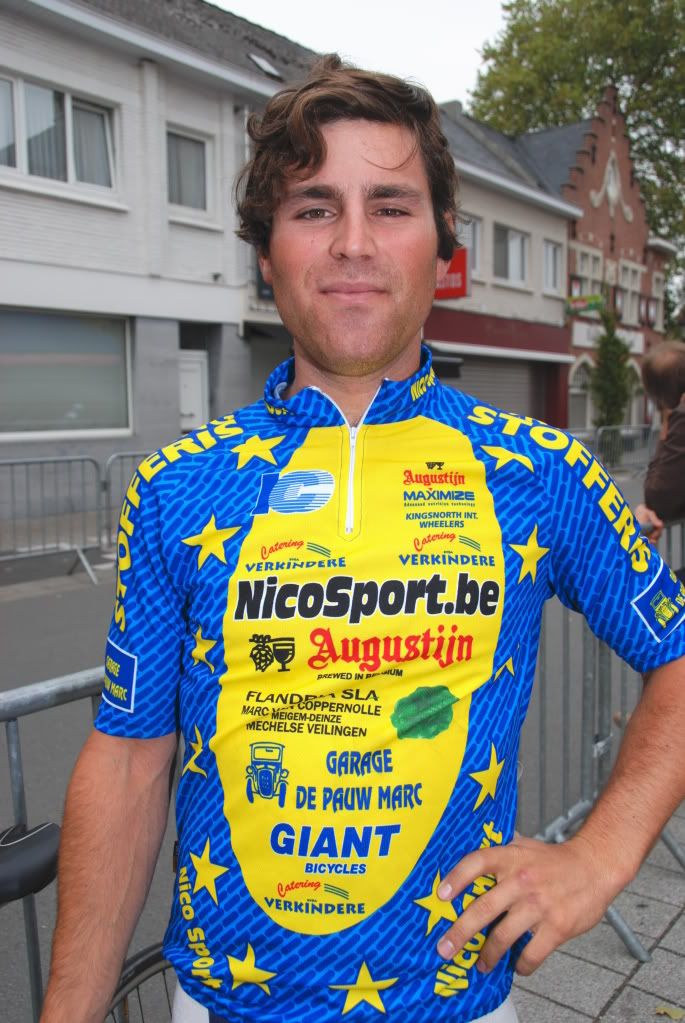 Tweet