--I mentioned
recently
I had been pulled over by the police in Tiburon for riding two wide with another cyclist. Riding two wide isn't against the law per se, but it was against "the law." This, however, isn't the only way the Tiburon PD is fighting "crime." Near one of the stop signs by the yacht club there is a police car parked with a dummy in it. Apparently the amount of crime is such that the TPD has had to resort to alternate deterrents to fight crime.
My buddy Ben forwarded me this
article
about the dummy in the San Jose Mercury. Looks like we're not the only ones to notice it. If you ride through be sure to check it out. Also, be careful because one time I saw the dummy and then 100 feet behind it a real cop.
--What do you guys think of the new layout? You like? Not like? Read this in RSS so could care less?
--Looks like the Vuelta route has been
leaked
.
--Speaking of Spain, the poor Xacobeo guys haven't been
paid
in three months.
--And speaking of Spaniards, the Contador isn't going fast enough for
Hinault's liking
:
"Why drag the Contador case on so long? It is quite simple: yes or no," Hinault told Belgian newspaper Het Nieuwsblad. "What is the point of WADA buying a steak to see whether or not it contains clenbuterol. The animal which was eaten by Contador has been dead much longer."
He does make a good point. Hopefully they'll have this wrapped up before next year's Tour.
--Looks like Cipo is sponsoring a
women's team
. Cipo. A women's team.
--Speaking of Italians, here is one more
reason
to train hard.
--The Fred post is coming. I've enlisted the help of my buddy Dylan who started riding in March. He's closer to Fred-dom so he's been helping me brainstorm.
--Danny McAskill has another video out. This guy does some pretty sick tricks. I read an interview with him after I saw his first video where he said he had to take pain pills before he rides because he's been injured so many times. Pretty gnar.
--The London Velodrome is ready for the
2012 Olympics
. This thing looks sick.
--This guy has a PRO
photostream
. Looks like he's a mechanic or soigneur for Garmin because he has pics like this one of Hesjedal: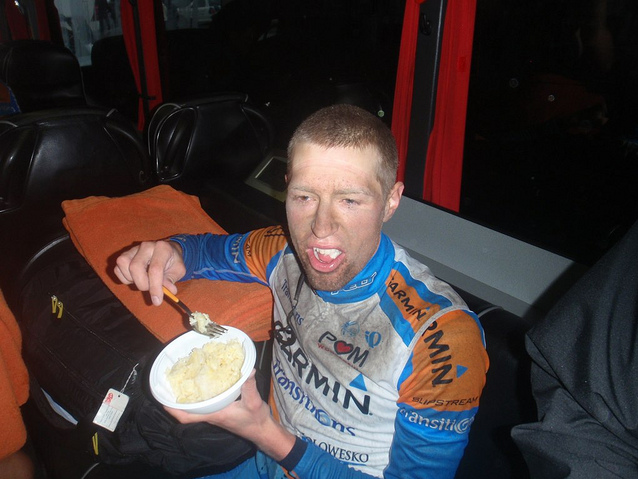 --At Interbike I gave Jim (@jwbender) a lot of crap about why he shouldn't but a Ritte bike--lack of testing, no R&D, et cetera. These guys are really funny though.
RITTE BEHIND THE PELOTON: TIRE CHANGE
from
Ritte Racing
on
Vimeo
.
Check out the rest of their
video stream
for more funny ones. I also bought a pretty funny shirt from them at Interbike.
--Lastly, I'll leave you with this really funny cross video I found on
Velogogo
. Jim (@jwbender) knows the guy from the his east coast days of glory as the number one Cat 3 in the nation.
Tweet