--My buddy Lucas Binder has gone
PRO
! He's riding for SKLZ-Pista Palace this season. He'll be riding alongside Rahsaan Bahati on his new Time with Campy 11. So sick.
A while back I posted Lucas's race reports on
Posterous
. If you haven't read any of these, you should, they're fantastic. This coming season his posts will be featured on SoCalCycling.com and I'll repost on Posterous.
--Yesterday I went out with Matt and Oliver and rode for a bit. Only a few minutes into the ride my legs were already feeling sore and I was lagging behind them. I think it's time to take a week or two off the bike. I did this last year for 2-3 weeks.
The ride was really great, despite not feeling so hot. Matt took us up this route that I had never been before, through Mill Valley to the Four Corners. Once at the top they headed to Muir Woods. I peaced out and headed home.
(I've been posting all my riding pics on my
Tumblr
.)
On the way home I met a guy who just got a custom Parlee, my dream bike. It also had Edge clinchers and Di2. All black. So sweet. One of the most PRO bikes I've seen.
--Last week I sent one of my pics in to VeloNews for their Reader Gallery. This one made the
cut
!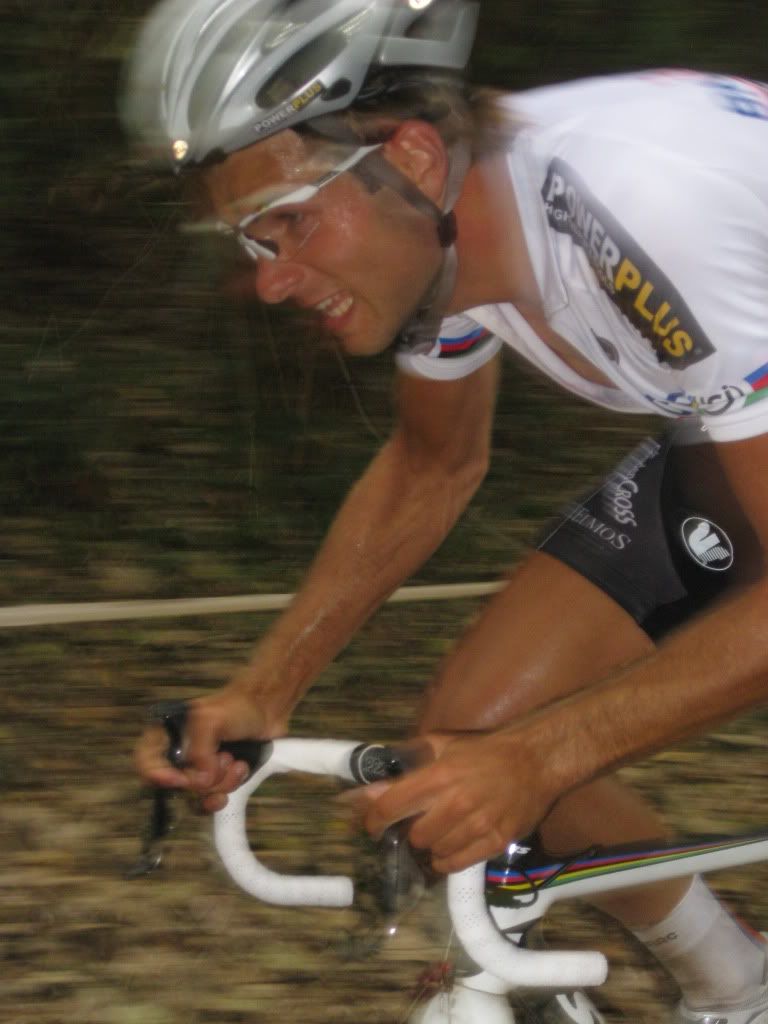 That was at my first
cross race
in Belgium last summer. Here are the rest of the pics from
that day
. I submitted a few more for next week so we'll see if they get picked.
--Speaking of cross
pics
, Bart Wellens was in a pretty gnarly crash recently...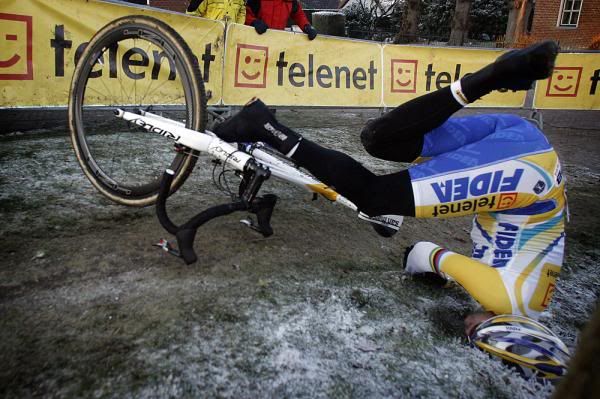 --Landis has reiterated his statements that
doping is easy
in the PRO peloton. I think he's probably right on about this. McQauid has fired back calling Landis a
"liar."
Isn't that libel? I mean, if Landis can prove his claims, which it sounds like he can. After all, he was caught doping. And by the head of the UCI no less. I mean, can't we deduce who's telling the truth by simple psychology? If Landis's claims are so outlandish, is there a need to respond? And if you do, do you do it with an
ad hominem
? I mean, if you have nothing to hide.
VelnoNews had an
interview
with Papa McQuaid this week. He says the Contador case is going at the pace it should and that nothing is abnormal about the process.
--Speaking of the Contador case, if, like me you thought the "tainted meat" defense was original, think again! Apparently a German table tennis player had already used
that one
. Really? I mean, I know speed walkers are all about the EPO (see: Operation Puerto), but table tennis? No, not all athletes are dopers. Yes, all sports have doping, even the beloved American sports.
--Okay, last piece about doping. I'm not sure why this is news at all but
old man Coyle
had EPO shipped to his house. This was the Colorado Masters racer who recently got a suspension. Of course he had them mailed to his house, they were bought from Joe Papp's online store.
The part I love, though, is that Coyle felt he was "out of options." I hear you, man, trying to win every local crit can totally wear on a guy.
Competitive Cyclist
summed it up the best:
Boulder is the Hamptons of endurance sports. Amateurs doping to haul ass up Flagstaff is like Manhattan milfs doing Botox for the cocktail circuit, no? Chuck Coyle, you're pure Americana and I don't resent a bit of it. Desperation to stay young: We're all guilty in our own way.
--I emailed HED last week about getting a new spoke for my Bastognes. They emailed me back on Monday and asked me to send a pic. I sent one back, no response. A few days later I sent a follow-up email asking about the spoke. They replied saying I needed to call in and order one. I emailed back asking about the warranty and they said it was nil because the wheels were older than the two year warranty.
Contrast that to my experience with Sram
last weekend
. I showed up at a cross race on my road bike. I asked the Sram mechanics working the cross race to check out my right shifter. The Sram mechanic replaced my shifter with a new one and sent me on my way. No questions asked.
Once I get the spoke from HED the wheels are going on eBay. As for Sram, I'll be a lifetime customer.
--Good news, L'Angliru is going to be in the
2011 Vuelta
! This climb is unreal. Here's a clip from the last time they went up it in 2008.
I remember a quote from Sammy Sanchez at the time which was something like "I can see the Angliru from my house. I've never ridden it."
--Garmin has unveiled its new
jersey
and
bike
. The kits aren't bad, although I love orange. The bikes, however, are awful. Cervelo, cool. Mixing in the argyle on the paint, not cool.
--Okay I'm getting tired but a few more notes. So Cervelo and Garmin combining but a lot of riders, those who weren't clear leaders on either team, in a tough spot. One of these casualties was
Daniel Teklehaimanot
from Eritrea. This kid was a stagaire for Cervelo but with the team combining he's been left without a team. I saw this kid earlier this year and was really stoked to see him doing well. Let's hope he finds a team.
--Rasmussen is still having trouble
finding a team
. I'd like to see him find one. In the meantime, his team drama has made for a funny
Toto
. (You'll have to watch
this
to get the joke about dancing.)
--Galicia guys weren't being
paid
, a la Astana '09. I'm not sure how this even happens given each team has to have a bank guarantee. When does it kick in? The guys say they haven't been paid in months. Fortunately a group (I'm not sure if they're associated with the team or not) has agreed to
pay
the riders.
--Italian Cycling Journal has an
interview
with Cunego. The interview itself is so-so, but the pics are fun.
--I'll leave you with an awkward one of Simoni and Cunego "chillin'" from
Velominati
.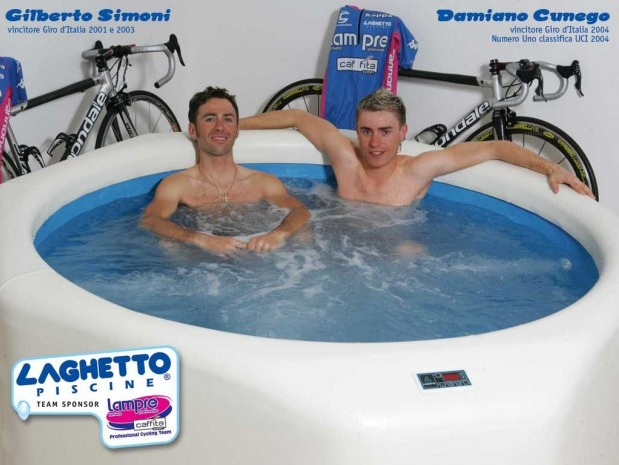 Tweet