--After getting smashed two consecutive weekends I decided I needed to take some time off the bike. This week I just commuted to work a few times with no real rides. I also had about a pound of BBQ between two sittings at
Memphis Minnies
, after not having eaten meat in about six years. Sunday I got on the bike and my legs felt amazing. They felt better than they've felt in a long time.
There's a slight chance I was just feeling a little of the
"clen"
from the beef. But more likely is that I actually got some rest. My legs felt so great I'm going to take next week off as well.
It totally got me thinking about training and how after I started working full time and had less time to ride, my legs felt better and I felt stronger. So my conclusion is to rest more.
Anyways, I had planned to ride just out to the beach but then remembered the headlands was open so we did that.
I had never done the full loop since it was closed when I moved to the city. It's probably my new favorite ride. You get up to the top of the nice climb and your view is about what that picture is (I took it from one of the batteries up there). The other side is a one way, single lane road that starts off at 18% grade. You can fly down it without any worry of oncoming traffic. Beautiful.
--Last week I bought up the
Bike-Boy.com
domain. You can now reach me on either location.
--Good news! RadioShack, HTC, Garmin, BMC, and Liquigas are all
coming
to the Quizno's Pro Tour (Tour of Colorado)! This is going to be sick! So great to see another top US race on the calendar. I'm already thinking of flying out to catch a stage or two.
--Recently Cyclingnews had a
story
about a kid named Silvère Ackermann who just retired at the age of 25. His name probably won't ring any bells because he was just on a Euro Conti team (if it does, you're PRO). He has some brilliant and telling quotes.
"I'm tired of cyclists being morally held up as something they're not. The media, politicians, sponsors, the heads of the UCI - often these are people without any morals, they use double language all the time. They ask the athletes to be highly competitive and to respect so-called moral values at the same time. Those who advocate these sort of ideas must be joking, because they would be unable to apply them to their own activities."
After all, people cheat in the workplace everyday. Why would we think that cyclists wouldn't cheat in their workplace? Or baseball players?
Ackermann went out in true Jerry Maguire during the Swiss championship road race this year. "He was part of a race-leading breakaway and could have battled for the national title, but he stopped at the road side and called it quits."
He isn't the only up and coming rider who has quit. This year alone I've seen at least two others. One was an HTC rider named
Rasmus Guldhammer
. He said he wasn't ready to be a professional yet. The other was
Sergio de Lis
from Euskaltel. He quit right before the Tour citing family issues.
These are just the riders who got big enough for us to hear it when they quit. There are no doubt countless others who quit long before that. It's unfortunate to see the sport's rising talent quitting for greener pastures. But this is what we should expect. I'm tempted to say that the gains from PEDs are greater in cycling than in other sports, but I don't think this is the case. No matter the sport, massive performance gains can be had from PEDs. No amount of testing or witch hunting will ever prevent the use of these. Anyone who thinks so is deluded. As long as there is a buck to be made on the bike, or swinging a baseball bat, there will be doping. Just like in the workplace.
--Speaking of riders quitting, Oscar Pereiro is quitting for entirely
different reasons
. The Tour de France winner (after Landis was disqualified) has decided to take up soccer!
--In other news, the Contador decision could come
any day now
. Let's hear it!
Oh wait, McQuaid says it's not coming
before Christmas
. Well, bah humbug to you too.
--Okay, I told myself this post I wouldn't be all about doping but this one is pretty interesting. Looks like this Lampre rider and his family has been
banned
from attending races. This is similar to Basso's
sister
who was banned.
The interesting part of the article is that the guy is close friends with Petacchi...
--Thor's
new Cervelo
looks pretty sick.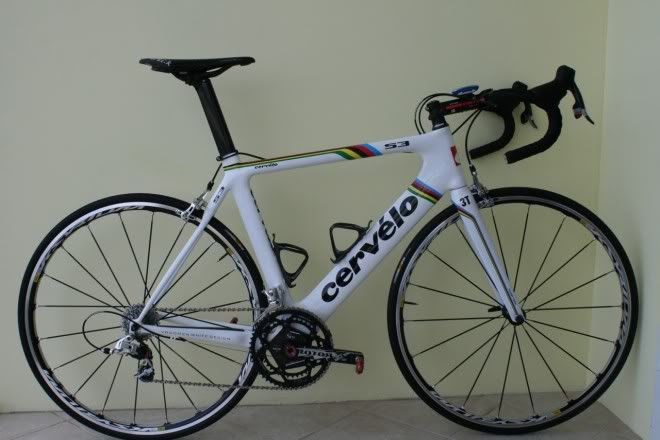 Cervelo also did a really nice job on the bikes from the
Olympics
back in 2008.
--Speaking of Cervelo, Gerard Vroomen has some really interesting
comments
on the recent debacle surrounding ProTour, I mean ProTeam, selections. Basically, teams are in a position of having to guarantee entrance to the biggest races, Le Tour being the most important, in order for companies to give them millions of dollars for marketing, obviously. The problem with the current system is that it's almost a crap-shoot which teams will and won't receive
ProTour
ProTeam status. This places most teams in a Catch 22. The teams have to sign sponsors as early as possible, but to do so they have to be able to guarantee they'll ride Le Tour. But since they can't guarantee that, they can't get sponsors.
Geox is one case where this has happened recently. You might have heard of them, they signed both Tour winner Carlos Sastre and Giro winner Denis Menchov. Despite these signings they still were denied ProTeam status.
It gets worse, Geox isn't the only team this has happened to. Pegasus, the Aussie team, was also denied ProTeam status and on account of it lost it's
primary backer
.
This is absurd. As if cycling doesn't already have enough problems getting and keeping sponsors, money is actively being turned away from the sport. Even Bob Stapleton, owner of HTC-Columbia one of the best, if not the best, teams in cycling has trouble getting adequate sponsorship. Given the difficulty in getting that ProTeam spot it should be more expensive to sponsor these teams, meaning the same net amount of sponsorship money goes into the sport. That
would
be the case if teams could guarantee entry. However, under the current system everyone plays a hand (ie puts money on a team) and the ones that don't get selected just take their money to F1 or another elite sport. No bueno.
Johnathan Vaughters also has a good summary of the
problem
and its origins.
--In more team news, Team Luxembourg is set to be called
Team Leopard
. It's named after the management company of Brian Nygaard who put the team together (not those
hideous
bikes!).
--Here's a cool article
Lucas
sent me about where bikes are
made
.
--I'll leave you with this sick video from
Velogogo
of Ryder Hesjedal.
Ryder Hesjedal Bear Mountain Hill Climb - 2010 Victoria Cycling Series
from
Media One Multimedia
on
Vimeo
.
Tweet