--I got another pic on
VeloNews
! It's one I took at my
first kermesse
two summers ago in Belgium.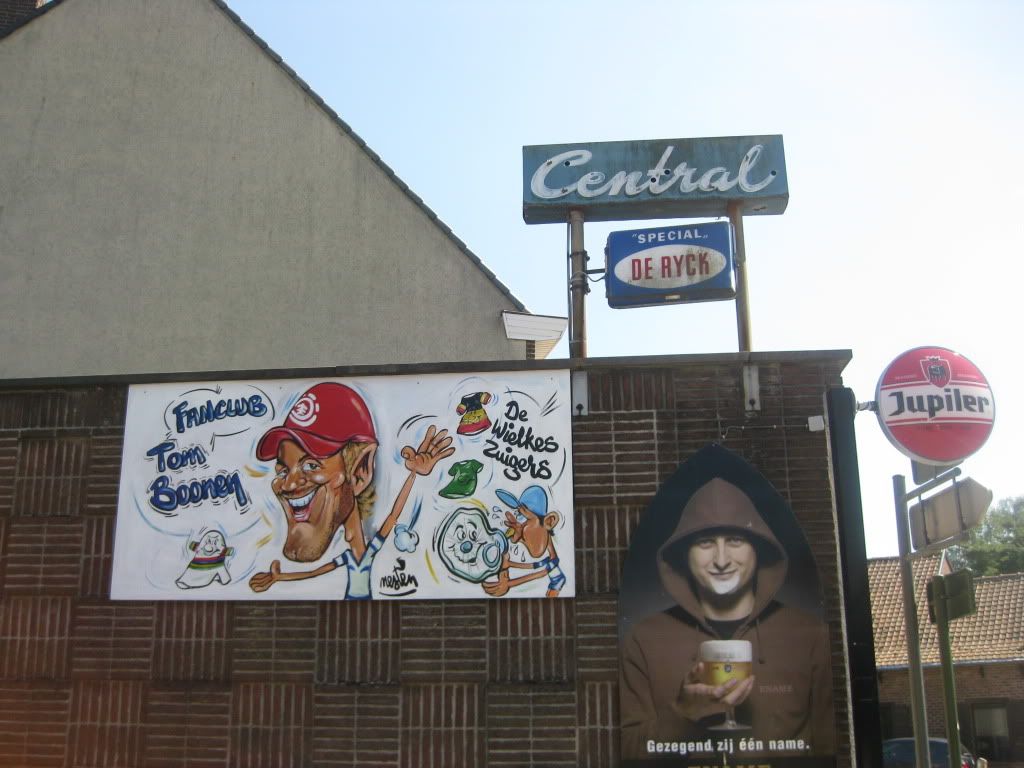 --The EPO era has finally come to an end. No, I'm not talking about Lance's retirement after the coming Tour Down Under. I'm talking about the death of
Eugene Goldwasser
, the scientist who isolated EPO.
--My friend Dylan has been off all semester at Columbia which means for the last few months he's been freezing. He sent me an email forwarded to him by the Columbia cycling team about calculating wind chill. The sender had gotten frost bite in her finger a few years back. Ouch. Here's a pic from one of his rides.
Anyone else doing any crazy winter training? Let's see it! Snow, sun, rollers, whatever your winter training is
send it
over.
--Looks like Stybar is in
talks
with Quick Step. The article says the initial offer was for 525,000 Euros, but that was rejected. Looks like he's probably making about 650,000 Euros a year.
I'm always interested to hear about salaries and budgets in cycling. They aren't as public, at least in English cycling journalism, as they are in other sports. In this article about
Team Geox
it says the team has an estimated budget of $8m Euros, $2.5m of that from Geox and $2m of that from Fuji. Sastre is reportedly bringing in $2m and Menchov another $1.4m.
--I mentioned in the last post a
piece
by Johnathan Vaughters. I finally read it all the way through and it provides a really good overview of how we got to the current
ProTour
ProTeam debacle. Definitely worth reading.
--Basque officials are suggesting fans should be charged for watching
bike races
. This is me laughing. One of the brilliant Basque officials stated: "Cycling, unfortunately, is a sport that costs much and in which the spectator at the roadside does not contribute financially," he said. Exactly, and that's the way it has worked for the last hundred years. The fan "pays" by looking at all the riders and all the banners and all the lead and follow cars and sees HTC, Cofidis, and in their case a little telco named Euskaltel. Just seeing the brands "pays" for the sport, not to mention the increase in tax revenue when bike races come through.
And it just hit me, I once paid to watch a
kermesse
in Belgium...
--La Gazzetta has some beautiful pics of the recent
Sky training camp
.
--One more reason to get a
MTB
...
--UCI still taking
shots
at Landis. Guess Landis struck another nerve...
--Here's a cool cycling
mag
that Jim (@jwbender) sent over. Pretty solid content, plus this issue is free.
--Anyone seen the new Campy electric? It's looking super
jank
. Definitely doesn't have that killer design like the rest of Campy's stuff.
--Ted King has a new blog post up about riding for
Liquigas
. I think it'd be pretty fun to ride for an Italian team, that or a French team. Here's another good
reason
to ride for an Italian team.
--Looks like there's another Clenbuterol
positive
. This is similar to
Colo
, the Italian ISD rider who tested positive right after the Tour of Mexico. You'd think after this spate of positives the riders would either: a) stop using Clenbuterol as a drug, and/or b) stop eating red meat. I mean, if your job's on the line...
--Lastly, I hope everyone enjoys the holidays and gets lots of riding in!
Tweet