--It's that time of year again. The winter is halfway over and the classics are in the near future. Last year I added a cycling calendar to my Google calendar so that I wouldn't miss any races. I couldn't find one for 2011 so I just made one myself. I've inserted it at the bottom of each post (just click on the "+ Google Calendar" button in the bottom right to add it to yours). Also, if you see any races I've missed please
email me
.
Since the season is about to begin--the Tour Down Under starts on the 18th--I thought it would be a good time to make some predictions.
First off, Sagan is going to have an amazing year. He was strong in last year's Tour Down Under and then went on to win stages 5 and 6 of the Tour of California. He stayed strong through the end of the season and got second to Gesink in the Grand Prix Cycliste de Montréal (right behind him was Hesjedal). That's good company to be in. Given his performance in uphill sprints I see him as someone to really challenge Gilbert in a year or two. In two or three years I think he could win Amstel Gold or Liège-Bastogne-Liège.
Cavendish is going to have a great year. Since he skipped the cosmetic surgery in
Paraguay
this off-season he should be good to go. I don't see him winning Milan-San Remo again, though. I think that was probably a one time thing. It's not that I don't think he can, I just think the race is such a crap shoot. After all, Freire won last year...
I'm not sure what his plans are but I remember him saying he wanted to start doing well in other classics. If that's still on his radar I think he could definitely be a factor in them over the next few years.
And yes, he'll have another amazing Tour.
Speaking of the Tour, Contador is going to get the ax and have his Tour taken away. Why? Not because he doped or didn't dope, but because the UCI has already busted and suspended more than a handful
others
for clenbuterol. If the UCI were to let Contador off the hook, they'd have to go back and let the others off. They'd have to retry those cases. They'd have to pay them back salaries for the time they were suspended. The UCI can't afford to do this, well unless their benefactor Lance ponies up another $100k.
So there you have it. Greatest cyclist of this era and he's suspended not because he was guilty or innocent but because of the UCI has to cover itself. The kicker is Contador was already screwed by the UCI when they denied Astana entry to the Tour in 2008. C'est la vie.
The Schlecks will be there to take his spot on the Tour climbs. Looks like it'll just be them two and come down to whoever TTs better--they won't be riding against each other on the climbs so it's all about whoever has a better time before the mountains.
Ryder Hesjedal will podium at the Tour. Better yet, without Contador there, I think he's a wild card for the Tour win, and with better odds than some of the others like Sanchez and Porte (and Wiggins).
Greipel, after all his talk, will be a disappointment. He'll continue to win these small stage races without ever really cracking the big races. (Okay, I just checked his stats and he seriously won like 20 stages last year. They were all small races, though.)
Farrar is going to have a fantastic year. He was sprinting with a broken wrist through much of last year's Tour. If he can stay strong, he's definitely got a chance of winning a stage there. Last year he won two stages in both the Giro and the Vuelta. This year he'll win stages in all three. (@jwbender ran into him at a PRO shop up in Seattle. Said he's a super nice guy. I actually spoke with him once myself. Two summers ago I was in
Venlo
at the start of a Vuelta stage. Tyler passed on his way to sign in. I yelled "Tyler!" He replied, "Hey!" as he rode past. Good talk.)
Gilbert will have a great season and win another classic, or two.
Chavanel, after being
disappointed
with his 2010 season, will continue to be disappointed. He had the best season of any Frenchman in years (yellow jersey, multiple stage wins) but it still wasn't enough for him. As much as I like the guy, I don't see him having a better season than last year.
Lastly,
Jack Bauer
is going to kill it at the continental level. But with results like winning the New Zealand Road Championship, 23rd in the Worlds TT, and 10th in the Commonwealth Games Road Race it won't be long before he's
ProTour
ProTeam. Here's a pic of Jack and the guys before a race a couple summers back (he's the one with his legs crossed.)
--The new jerseys are almost all out now. Here's Greipel showing off the new Omega Pharma one:
I think it's pretty sorry. That greyish/beige background color is just awful. Leopard's kits, on the other hand, aren't bad.
They look a bit Rapha-esque but I like the clean look. I'd wear one, not for the team, but for the design.
This brings up another point, why is Leopard Management sponsoring a team at all? I tried to find something on them and all I could find was this
crappy site
. Really?
--Looks like the NYPD is cracking down on
bikes
. I'm actually in support of this, at least in some areas. Out here I tend to see them enforcing this in areas where it's unnecessary (ie the parks in SF) and not enforcing it in important places (ie the Mission). Inexperienced cyclists careening through intersections is a bad idea. But then again, so is paying police $100k a year to give tickets to people riding bikes to pay for police making $100k a year. That's an even worse idea. Just saying.
--The race radio issue has come up again. The UCI is
attempting to ban
it for all non-UCI races this year. I thought they had killed this idea after the 2009 Tour (there were supposed to be two days of no radios but they cancelled the second one). (Niermann protests below.)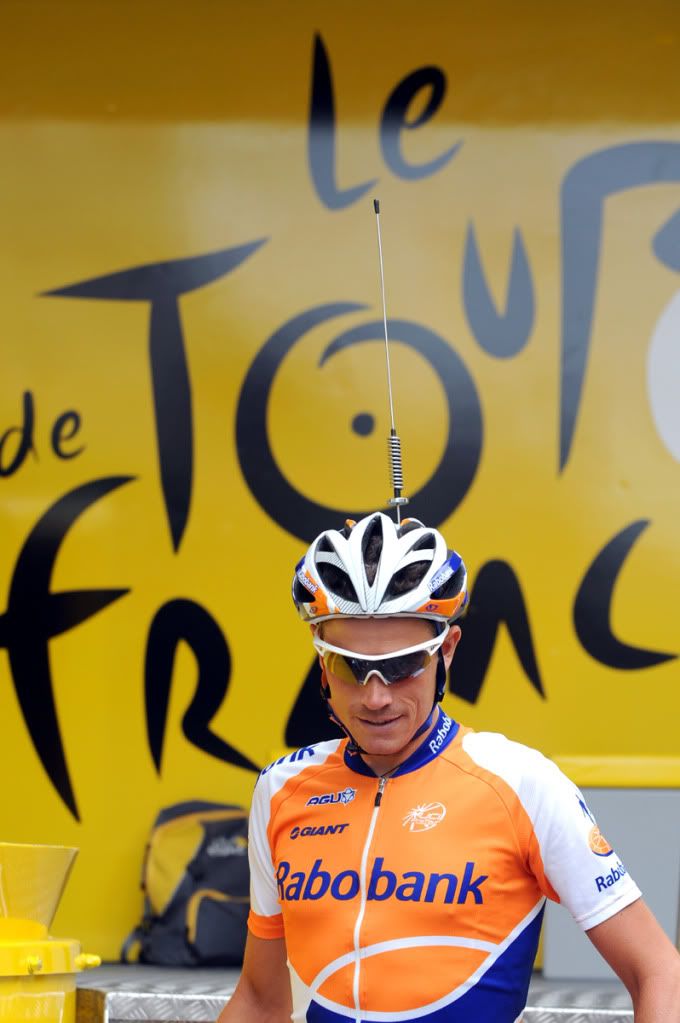 I think this will be really cool to see. After all, Ben King won the US National Road Race without radios--he put in an amazing effort but I also think the fact they didn't have race radios helped.
--The UCI has banned Iljo Keisse from racing but he got some Belgian court to overrule their suspension [so he can ride the Rotterdam Six]. He tested positive at a six day a couple years back but was then let off by whatever Belgian court saw the case. The issue has come up numerous times since then but he's never had to serve any suspension [he's one of the biggest track stars of recent times and a national hero in Belgium]. Now, in a last resort the UCI will be
"ignoring"
Keisse at the upcoming Rotterdam Six. The guy was banned by the CAS (Court of Arbitration for Sport, the ones who do the "banning"), so I'm not sure how he can still race. I am interested to see how the "ignoring" pans out...
--A new Dutch team is on the horizon. It's called the AA Drink-Leontien.nl team and I like the
looks
of it.
--I haven't found many cycling podcasts I'm crazy about but here's a pretty good one I found off
Velocity Nation
.
--I'll leave you with an awkward pic of Renshaw. (He had
Julian Dean
for his last meal.)
Tweet