--I just went back to work after a solid ten day break. Amazing. I got in a few rides and more hours of Jersey Shore than I rode--a feat, I know. I had a few nice rides up Tunitas, here's a pic from one of them:
I have the rest from the past few days on my
Tumblr
.
I know the posts have slowed a bit but there's just not that much that's excited me recently. That's all about to change, though. The classics are coming!!
--Speaking of pics, I got
another
one on VeloNews! It's from my first
Belgian cross race
.
Going through all my old cycling pics has made me super nostalgic for the summer of 2009 when I took off with my bike. I'm not one to look back at the past as my "best days" since I feel my life continues to improve, but my experiences from that summer were priceless. If you ever get a chance to go over and ride around Belgium and Holland and see the races I'd highly recommend it.
--La Gazzetta just had a killer gallery up with
cross pics
from a superprestige race.
--The other day I left the house in my Italian national team jersey (props to my mom and sis for picking it up for me in Rome) thinking it would be dry. I was wrong. It rained while I was out and I ended up with streaks all over my jersey after I got done riding. I was pretty bummed because I really love the jersey. And then, I had an idea. I used some of the color-safe Clorox detergent. I rubbed it all over the stain--BEFORE WASHING. An hour later I pulled it out and the thing was clean as the day I got it. So there, had to put in a plug for Clorox. Regardless the enviro impact, if it keeps you clean, that's #PRO.
--Speaking of jerseys, Saxo Bank just went from solid to
awful
...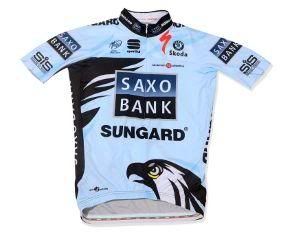 Guess Astana isn't the only team
following the hawk
.
--For those of you who've ridden Cat's Hill, Velogogo has a
nice pic
of Lemond doing it in '78. That hill hurt...
--A couple posts ago I mentioned a nice cycling magazine, well here's an even
better one
...
--Looks like Farrar's been racing
six days
. I think it's really cool when guys do this and I'd love to see one. Six days of track racing and techno, what's not to love??
--Apparently HTC was down at
Specialized
in Morgan Hill! I totally missed out on this. I would have loved to see the presentation.
--Lastly, looks like Traksel found another
team
. He was signed with Pegasus but then that fell through. The real story is that he thought after his win last year at Kuurne-Brussels-Kuurne, his only real win ever, he deserved a bit more money than Vacansoleil wanted to pay. So he went hunting and found Pegasus. Well, we all know how that turned out. So now, instead of riding for Vacansoleil, a totally legit team which as of this year became
ProTour
ProTeam, he's riding for Landbouwkrediet-Colnago. (Yes, I can hear you all saying "Who??")
Tweet