--Yesterday I went out and did something I hadn't done in
two years
: dirt. That's right, some gnar gnar. A little MTB. Last weekend I was out with some buddies riding and they asked if I wanted to ride dirt. Since I'd never ridden dirt, well anywhere in the bay area, I decided it was time.
They both had extra bikes but then I talked to Henry and he said he'd just let me use his: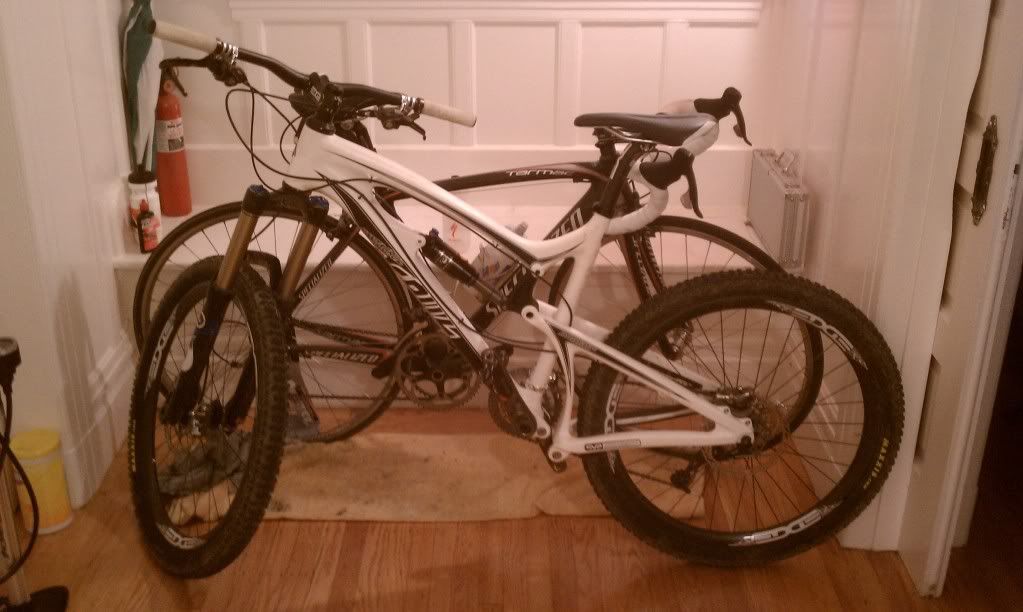 Santa Cruz Nomad with Edge wheels. Unreal. Props to Henry.
I ended up riding over from SF since my car is in Half Moon Bay and since I hate driving to ride. I met the guys at Mill Valley and we headed up railroad grade. I was like the Energizer bunny I was so psyched so I took off and went to the East Peak. After I got up there I turned back and found them down at the West Point Inn.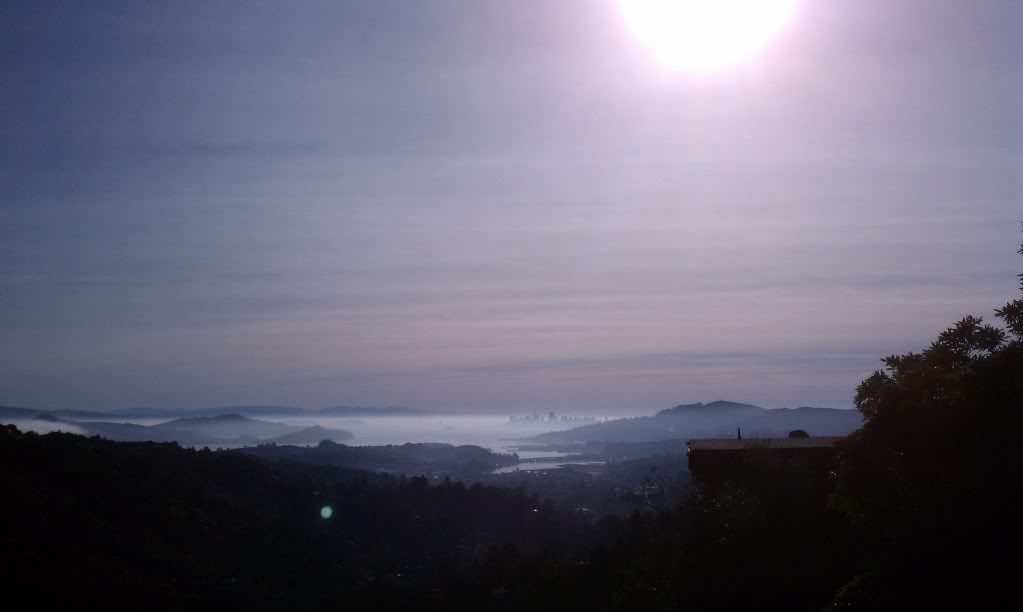 From there we descended down to Muir Beach. I was surprised I was able to keep up with them on the descents. The bike was amazing. Can only imagine the skin I'd have lost if I was on a hard tail.
After that we climbed up near the Zen Center and then I peaced out and headed over to Tennessee Valley, then up and over to the Golden Gate. We did a decent amount of stopping because some of the guys weren't that quick but I ended up being out there for eight hours. It was an amazing day.
I definitely have the itch now for a MTB, and Henry said he's got one he wants to get rid of...
--Recently I've been chatting with João Correia and he agreed to do an interview for the blog. He's the guy who raced PRO when he was younger, stopped racing, and then ten years later quit his job and got a contract with Cervelo. Some of you may have seen the NY Times
piece
on him back in 2009. Velocity Nation also had a killer
interview
with him a while back.
I've been compiling a list of questions to ask him and I need help. What do you guys want to know about the life of a PRO? What do you want to know about João?
Leave them in the comments section and I'll do my best to get them answered!
--Jim (@jwbender) sent me this page about
Jens
the other day. Very funny.
--Ritte Racing really has their
marketing
down (NRSFW - Not
really
safe for work). I bagged on them at Interbike about, well my assumption that they're buying up generic frames and having them painted for a 1000% markup, just a guess! But these guys are seriously funny. I
blogged
one of their videos a while back. If you haven't seen them they're hilarious. One is of a guy getting a "feed" from the team car. The "feed" is a chef in the back seat mixing a salad...
--This is the coolest
tech piece
of the day. This guy is amazing. He's Contador's mechanic and he does a full bar wrap in 4.5 minutes. I clock in at about an hour...
Also, the lastest
Ask Nick
has some interesting stuff on rolling tubulars.
--Android-based
cycling computers
!! So cool!
--Alright, I didn't want to go from the upcoming João interview straight into a downer but looks like McQuaid is back
politicking
. When he's not making jabs at Landis he's off clarifying the Contador situation with statements like these:
"We could assume that it's a possibility that [AC] will not be at the Tour de France."
and
"It is possibly correct that [AC not riding the Tour] is what will happen."
Wow, thanks Patty! That sure clears things up. I mean, I can see how you wouldn't know that much about the outcome, since you're only the President of the UCI.
I can't really say how much this guy has done for cycling since I feel like so much happens behind closed doors, but with statements like those I can't help but be reminded of
ol' Bill
.
--Zomegnan is already on the hunt for
Giro wildcards
. When asked about Team Type 1 he said, "the DNA of the new team is a good one," hinting they may get an invite to the Giro.
Is he talking about hanging onto the team cars through the Dolomites? That type of DNA? I'm all for American teams getting into the Giro, but this seems a bit of a stretch. I can't see those guys doing well there.
--In the continued tale of horrific jerseys:
I thought the old ones were pretty sick but these don't do much for me. Maybe because I don't like to do a separate load for whites. The caveat is the
Twitter logo
there near the top. Cool!
Liquigas has also gone
white
:
I thought they used to have pretty sweet kits, too.
--The
Iljo Keisse
saga continues...but I'm over it so all I'll say is that it's
continuing
.
--More info on Postal
revealed
.
Speaking of Postal, there's an interesting interview with Kimmage on
Cyclingnews
.
"I would put my hand in the fire right now and say that Floyd Landis is without question telling the truth," Kimmage said. "How do I know that? Well I spent seven hours with him and that's a long time and I asked him a lot of questions and the detail that he gave me about what happened on that team [US Postal] and about what happened to him in professional cycling, you cannot make that up.
"You would have to be an absolute psychopath to make up the level of detail that he was able to give me about what went on in that team."
There you have it.
--Alright, this is dragging on so I'll wrap up by saying
NetApp
is coming to Cali for the Tour, with Cozza riding for them. Very cool.
--I'll leave you with a sick clip by
Michael Barry
: