--Hope you've been enjoying the Paris-Nice posts! I've got the final one coming but wanted to do a quick update as there's been a lot of news recently.
--First off, I've got more interviews coming! I'm almost done with the one of 2010 US Crit Champ, Dan Holloway. Any other questions for him?
--Second, I got in touch with with Matthew Busche (Team RadioShack) last week and interviewed him this morning. To say Matthew's a phenom would be an understatement. He went from amateur to RadioShack in one season. Unreal.
--Last weekend's Milan-San Remo was out of this world. Goss's win reminded me of Cav's 2009 win, only more of a breakthrough. Cav had already won a number of Tour stages by the time he won MSR. Here's a pic I got of him at Paris-Nice: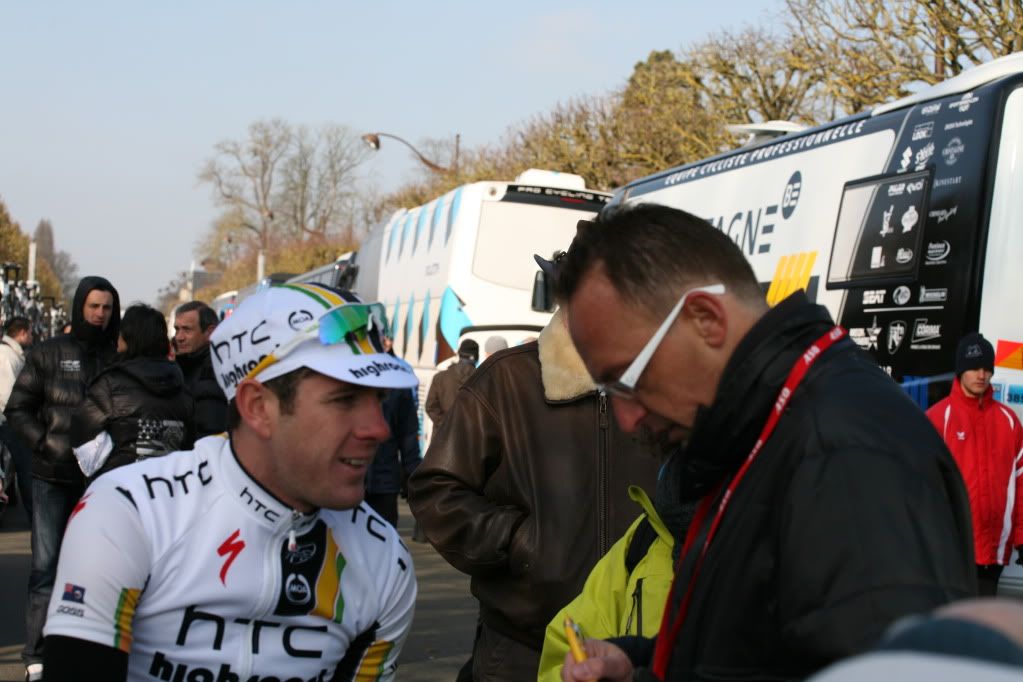 With Goss winning I think this might create a situation like when Greipel was on HTC. It will be interesting to see what happens with the Tour comes around. HTC might again be a victim of its own success.
--Speaking of Cav, I came across this really good interview he did
with Kimmage
.
--VeloNews has a
solid interview
up with Vaughters about the race radios issue. McQuaid's
response
to the situation has been incredibly weak. In the letter he uses doping as a red herring to draw the attention away from the race radios issue. Poor logic from a poor leader.
--Dylan is rocking his first season of racing at Columbia. Excuse me, he's rocking his first year of racing AND cycling. He picked up the bike about a year ago and has already collected a handful of wins.
Apparently they have a pretty sick sponsor at Columbia:
Those are the
NormaTec MVP
boots which are used by Garmin and others.
--I came across this
Tweet de France
that has all the geo-tagged Tweets from the Tour. Sick!
--Velocity Nation has posted the
full SCA videos
.
--Specialized just came out with a new
aero road bike
. I think these are a no-brainer and definitely here to stay.
--I'll leave you with this pic I took of Jens. (Please excuse the dust spot. I haven't had a chance to touch these up.)