--This evening I hopped a train down to Paris so I can catch the opening stage of Paris-Nice tomorrow. Before leaving the states I got an email from João (@joaoisme) asking what I was up to. I mentioned the race and he asked (make sure you're seated for this part)
if I wanted to ride in a team car
. I almost died!
Long story short, I arrive in London and wake up Saturday morning to an email from Ken Sommers, the Leopard Trek Marketing Director with
Kim Andersen
, Leopard Trek DS cc'd telling me to call Kim before the race and then meet him about 45 minutes before the race start. Joao, I can't thank you enough!!!
So here I am in a French hotel trying to go to sleep knowing I'll be in the back of a team car at tomorrow's race. Sorry for those of you at work...
--Dylan sent over another reason to switch to Sram. Yesterday his right shifter went out just a day before his first race. Luckily Sram does warranty replacements so he got it replaced just in time. Good luck tomorrow!!
--More drama about race radios. The UCI has met with the AIGCP (riders' association) and has agreed to
change nothing
! As it should be the AIGCP is
planning action
.
I, too, used to be in that camp which thought racing would be more exciting without the radios. However, after the recent protests I've come to agree with almost all the riders. In case you're still in that camp, Jens Voigt (Editor's note: I'll be sure to cheer him on from the team car tomorrow, fyi) has some strong arguments in his
recent letter
Of all the protests, here's
my favorite
: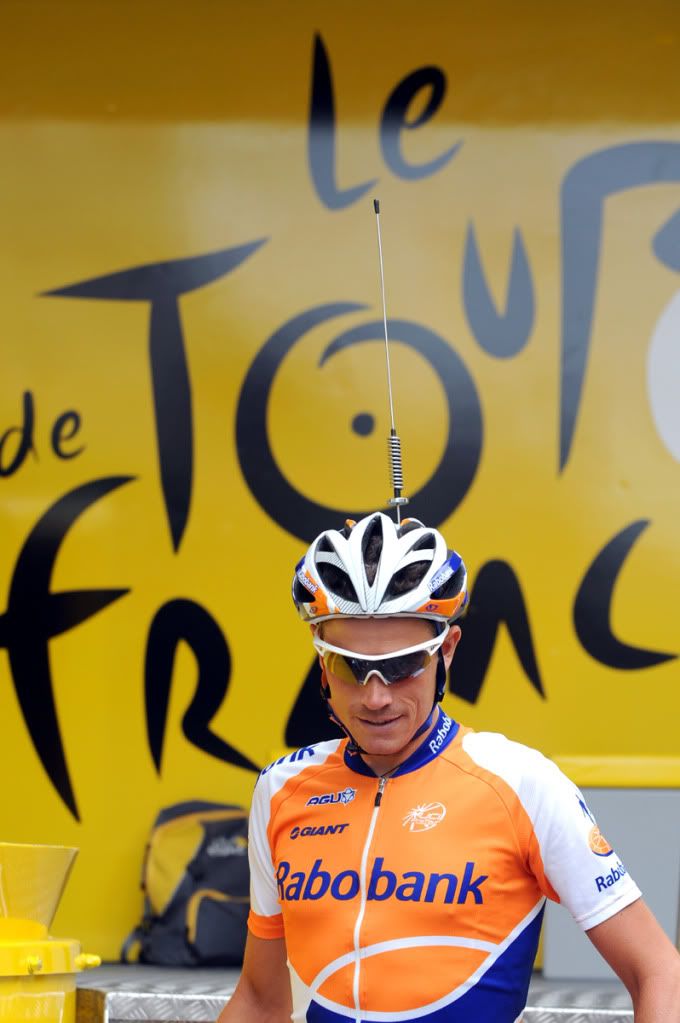 Basically, this is another colossal failure by the UCI. It's sold as the UCI doing something to help draw sponsors to the sport. However, after the Tour selections debacle it's clear what sponsors want is a guarantee their teams can ride in the Tour [sometime before they sign the checks for sponsorship]. That's a tough target, though, because it's outside the control of the UCI.
The race radio debacle also serves to pull the wool over fans' eyes about the Contador decision (which the UCI clearly wants decided in his favor). Classic politicking by McQuaid.
--A French junior has
admitted to doping
. He says he did it instead of training.
--Apparently there was a group of riders
ejected
during Kuurne-Brussels-Kuurne. Similar to the train crossing during the 2009 Paris-Roubaix, these breakaway companions came upon a blinking train crossing and went through. Riders say it would have been unsafe to stop due to their speed. Judges say they should have stopped. Everything else in PRO cycling is
at your own risk
, why not this?
--A change of rules at the Tour de France could prove advantageous for Cav! This year instead of two intermediate sprints on sprint stages there will
only be one
.
--Speaking of Cav, looks like he's
not coming to Cali
this year. He'll be racing all three grand tours instead. Bummer.
--Although Cav is skipping the Tour of Cali, we may get to see Stybar there! He recently
signed with Quick Step
for his first season of road and might debut here in Cali. This would be amazing. The Tour of Cali has seen cross talent before with multiple appearances by Lars Boom, but this would be sick.
--Ben King has a
really good post
up on VeloNews. I met him at
Interbike
this year and he's a cool kid. Very down to earth considering he's only 21 and he's the reigning US Road Champ.
--Alright, a quick wrap-up before I head to bed. Leogrande
talks about his suspension
, Gilbert
wins at Strade Bianche
and Sagan
continues to do well
, Zomegnan
defends his doping stance
by mentioning not letting Ricco race last year, but then omits that he refused to re-test his 2008 Giro samples, and Ask Nick has an
interesting post
up about team cars.