--I'm working on BikeBoy shirts to wear at the Tour of California. I played around on Spreadshirt the other day and came up with
these
. I know they're weak so far but would love other suggestions. Oh and if you have an eye for design and
send one over
, you'll be well compensated in swag!!
I was thinking of changing the pic from Niels Albert to the one of the
Schlecks
at the Tour of Cali last year. Wick also sent over a much more
graphic
one (NSFW). Then again, what better marketing than a topless woman on your shirt?
--Looks like La Gazzetta has published
some info
from the Mantova investigation. Check out these two conversations:
On April 1, 2009, Ballan talks to Nigrelli about growth hormone:
Ballan: "Is that G?"
Nigrelli: "Yes, of course."
Ballan: "But how do you take it?"
Nigrelli: "By mouth."
Ballan: "Have you got some?"
Nigrelli: "It's being delivered on Tuesday."
On April 20, 2009, Ballan speaks to Nigrelli about taking EPO.
Nigrelli: "How many have you done?"
Ballan: "This is the fifth one."
He then adds a little later: "This is how I've done EPO..."
On May 4, 2009, Nigrelli talks about Ballan to fellow rider Daniele Pietropolli. "Without chemicals Ballan would never have made it."
BMC has suspended Ballan and Santambrogio. Guess that 2008 Worlds win by Ballan was so amazing for reason. It's still worth a
second watch
.
--Check out this gnarly crash by the Andalucía Caja Granada team car the other day: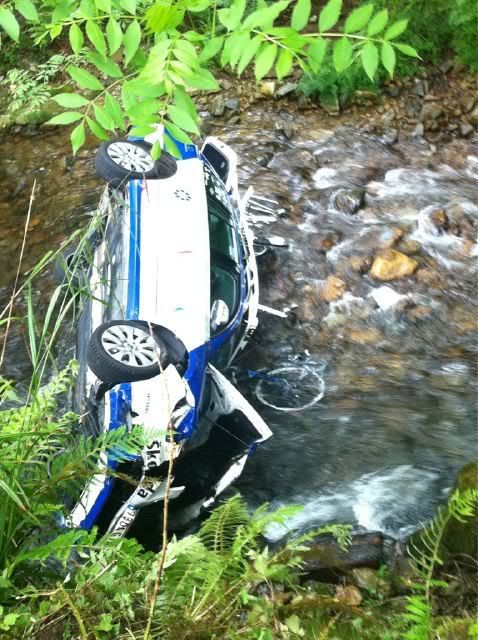 I found that on
Twitter
the other day.
--Looks like the UCI is
giving in
a bit with their recent regulations on frames. Finally! Now for race radios...
--Check out some of these pics from
upcoming Giro stages
:
That's Contador checking out the tunnel near the summit of the Zoncolan. He says he'll be using a 34x32 on that climb.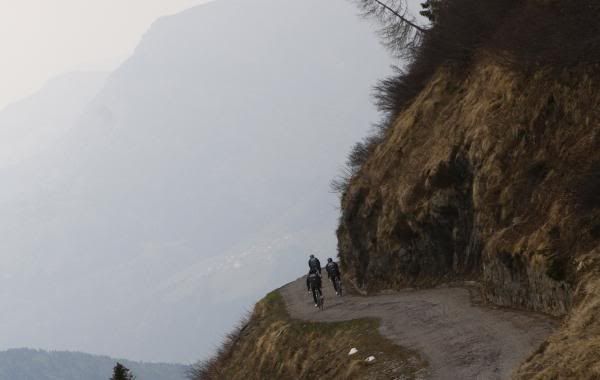 That's the descent of the Crotis. It has Contador super worried and for good reason. Apparently they're going to erect barriers to catch any riders that fall. This is insane!
Don't forget, the Giro starts this Saturday! Looks like
Universal Sports
has a package which I'll probably buy. They have great pricing and great service.