--For those of you watching yesterday's Tour of Cali stage, remember when Denifil fell off Freire with a flat? Well that wasn't the worst of
his problems
...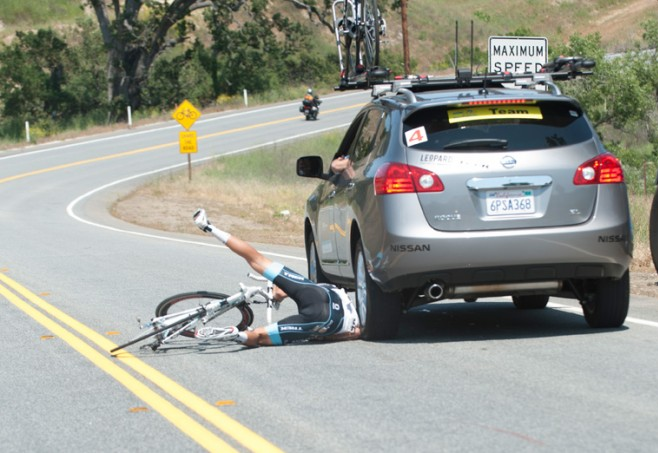 --Looks like Tyler Hamilton has
cleared his conscience
. Be sure to check out his piece on 60 Minutes this Sunday at 7pm ET.
--Speaking of confessions, remember Landis supposedly got sued by the UCI? Well looks like the UCI
made that up
:
When asked if there was a legal action being taken against him by the UCI he said, "I had some lawyers look around in Switzerland and the UCI never filed anything. They just made that up."
Classy.
--McQuaid has proposed a rule that would
ban cyclists
who had been convicted of doping from team management. Looks like there will be a lot of vacancies in team management...
--Today's Giro stage was pretty epic. They climbed the tallest mountain in Austria. Yeah. Rujano attacked and Contador went with him. At the top Contador didn't contest it and Rujano won. The funny part was right before the finish Rujano looks back at Contador just to make sure he's not going to attack. Check out the
final k
.
--Looks like someone caught Chicchi doing what all sprinters do on
Mt. Etna
. Yes, he took a pull from the team car. Oh the humanity.