--A NYT reporter just Tweeted that CAS has
postponed
his June 6 court date indefinitely. Looks like he'll be riding the Tour after all.
Initially, I predicted he would
get the axe
since more than a handful of guys had already gotten the axe for clenbuterol. That was because they weren't Contador. Then, I saw they were letting him ride and the politicking by McQuaid--pretending he was upset when the Spanish courts let Contador off--and I
revised my predictions
. Contador will ride the Tour and the fact the other guys (eg Li Fuyu) were banned won't be an issue because they can't afford attorneys. No crying in cycling.
--In other Giro news, I mentioned
yesterday
how Contador's mechanic was kicked out of the Giro for opening the door on a fan who tried to punch Contador. In today's stage there was some fan who reached across another rider just to try to touch him!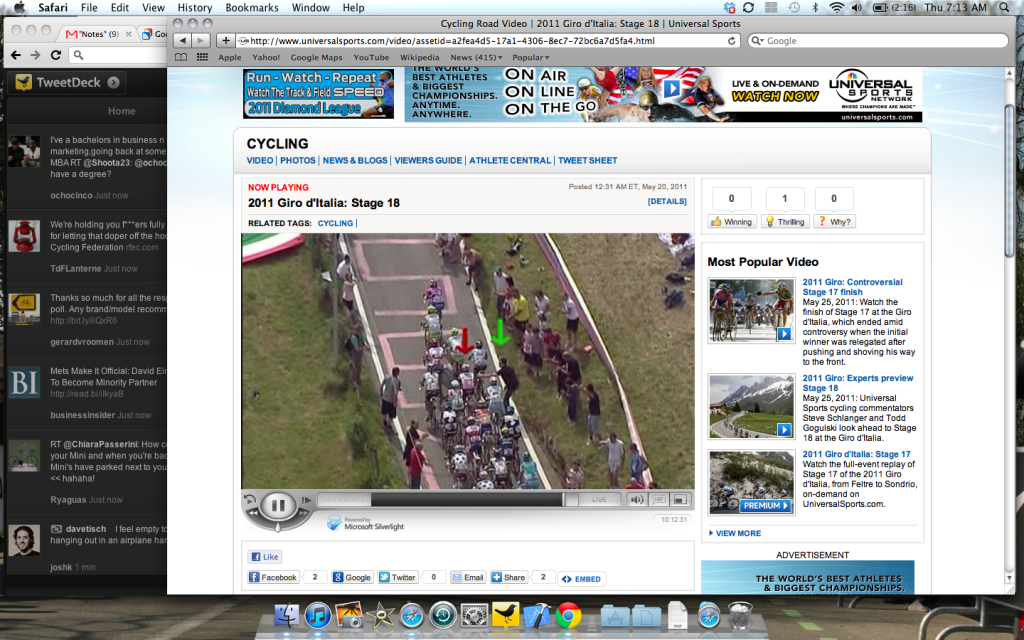 --In Milan politics
trump cycling
. The upcoming Milan TT course has been changed due to the need for police at the elections.
--Visconti still
considers himself
winner of yesterday's stage. Ulissi shut the door on him, much worse than some of the moves Cav has been relegated for, but Visconti was DQ'd for pushing Ulissi.
The trend I seem to see is strict enforcement of everything but arguably the most important thing, holding your line. Renshaw was
DQ'd
from the entire Tour last year for his headbutt which arguably saved a crash from happening but at the beginning of the Giro Petacchi
swerved all over the road
with no relegation. (The exception is when you're the world's top sprinter and your changing lines causes
a crash
.)
I think it's unfortunate because this is the clearest and most obvious example of cheating the sport has. Take yesterday's stage for example, Visconti pushed Ulissi not once but TWICE and still beat him across the line. Clearly Ulissi didn't have the gas to beat him and that's why he swerved into Visconti's line. It's the same with Petacchi's case, he didn't have the gas so he swerved three times to cut Cav off.
I really feel for Visconti on this one, as I did with Cavendish earlier. This type of sprinting isn't fair for the riders and it hurts the sport.