--Earlier this week Xavier Tondo died. His garage door fell on him as he was leaving for a ride. It was quite sad to see him die now, especially with the season he was having. More than that, some of you may remember the Spanish doping ring that was busted earlier this season. It was Tondo who
blew the whistle
on it. Then, Vaughters came out with a post saying he was sorry to Tondo. He had always assumed that based on the teams he rode for he must be doping. It looked like after the season he was having and that letter from Vaughters he'd be able to crack the ProTour next year.
Gerard Vroomen, who worked with him during his year on the Cervelo Test Team, has an excellent
post
up about Xavier.
--News just came out that the 2012 Tour of Cali will
start in
Santa Rosa. Levi will be so happy to embark on the race from his hometown. Especially since he'll be riding as a domestique for Horner!
--Today's Giro finish was unreal! A breakaway and a very controversial sprint. See it for yourself
here
.
Visconti clearly chose the wrong line. And why? Well, all the heat is about Ulissi shutting the door on Visconti, which he clearly did, but if you look back further I think the reason Visconti chose the inside line was because he was closing the door on Lastras. I was rooting for Visconti after Ulissi went off his line Petacchi style, but it's always cool to see a 21 year old win a stage. Congrats, Ulissi.
--Saturday was an unbelievable day of the Giro. They climbed five climbs and about 140 miles. Contador even said it was the
hardest day
of his career.
It was also one of the most beautiful stages I've ever seen. Check out this canyon they climbed through:
Like
last year
, Scarponi had his signature hawk helmet.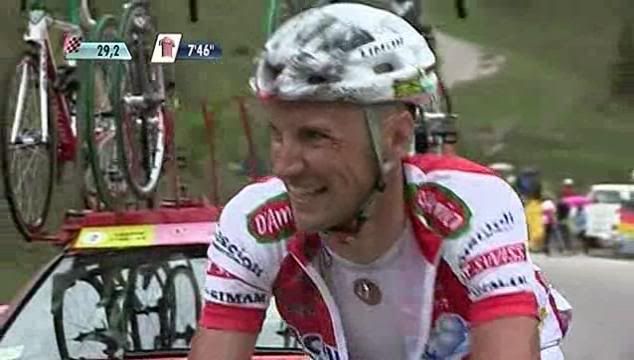 He was pretty happy there but got a bit uppity when the kid started taunting him.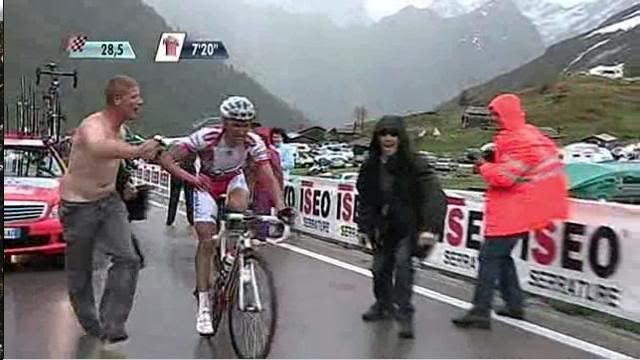 Then, Contador took off and was followed by a syringe-toting fan.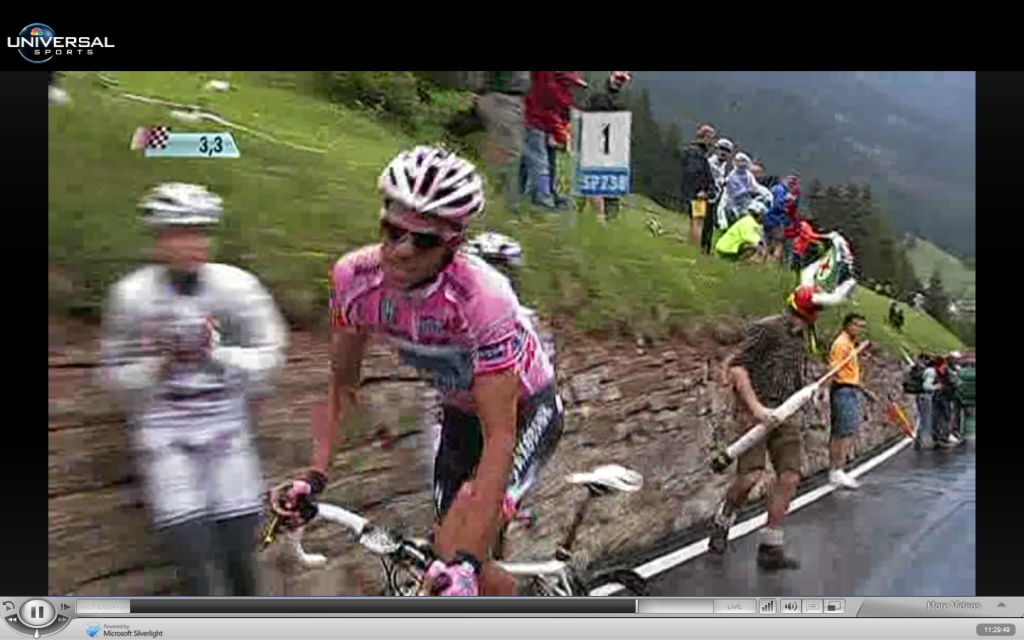 It was a really exciting day of racing, but after umpteen straight days I was ready for a little break. Grand tours are hard on fans, too.
--The void was filled by the Tyler Hamilton piece on 60 Minutes. For those of you living under a rock he went on TV and told us what everyone [in cycling] already knew. It also came out that George Hincapie had testified in the grand jury and had said the same thing. He later denied saying those things, on Twitter that is, not to the grand jury. According to Scott there's really no way for a grand jury testimony to leak unless it's someone who's working on the case, so the Feds had to have leaked it.
What's known is that Hincapie hasn't spoken to the Feds since August 2010. That doesn't mean he didn't say that but the timing is a bit odd. Why now? It could be that the Feds have a weak case and/or are trying to wage a bit of a PR war with Lance and possibly get him to fess up.
In the meantime, Thomas Weisel has also been dragged
into the muck
.
--Before all this, the hype was around the "breakaway league." McQuaid seems to think JV is the ringleader so he's
putting pressure
on him in the form of double secret probation. Basically, he's having him sign something saying he's not organizing this. A breakaway league sounds amazing, so hopefully Vaughters has his fingers crossed.
--Contador's
mechanic
has been expelled from the race! During yesterday's time trial he apparently opened the door on someone whom he thought was trying to punch Contador.
--As I
mentioned before
, some tool named Golas just left the Giro to
get married
. Don't get me wrong, I have nothing against marriage, just so long as it doesn't interfere with any major races. I'm just a fan, but even I won't be getting married during a major race. If I do, I can guarantee I'll be watching it before the ceremonies begin at the biggest little chapel in Vegas.
--Back to the Giro, Millar says this year's is hard but not
as hard
as the 2008 Giro. That was the year Ricco won, and still holds--
thanks, Zomegnan
--the best young rider's jersey. His incredible times put pressure on everyone since the time cuts are only 13% greater than the fastest time. (Cav also wanted to
punch
Ricco for this.)