Saturday.
Around 11 I headed up to Tahoe. Jim and I had talked and neither of us felt like riding in 40 degree weather so we decided to leave our bikes at home.
Two hours into my trip I call Marek and he says there are 1000s of cyclists out. It's 60 in Tahoe and he just saw four teams riding when they were out. Bummer.
I got up to Trukee at around 3, before Jim and his BROs or Henry. I grab a bite to eat and head over to the hotel. Henry gets a deal at the Ritz so we were living large. I unpacked and relaxed in my room.
Once everyone got in we went to the hotel restaurant for dinner. Jim had brought two riders from Seattle with him. Coffee Brad, an ER doc, and Southern Lyle, Allen Lim's personal attorney. Jim gave Lyle a lot of shit because, as it were, Lyle's way faster than Jim.
After dinner they all headed out for adult drinks and games of chance. Considering I only stay in a Ritz, well this was the first time in 25 years, I decided to enjoy the accommodations and stay in. Besides, tomorrow was going to be a long day.
Sunday
I woke up at about 6 and I was wired for sound. I turned on the Giro and started checking the Twitter for race updates. It was snowing so we had our fingers crossed.
At 930 the announcement came that the start was pushed back to 1215. We called the valet and headed out. In front of the hotel there were a few RadioShack cars.
On the way over the lake looked amazing.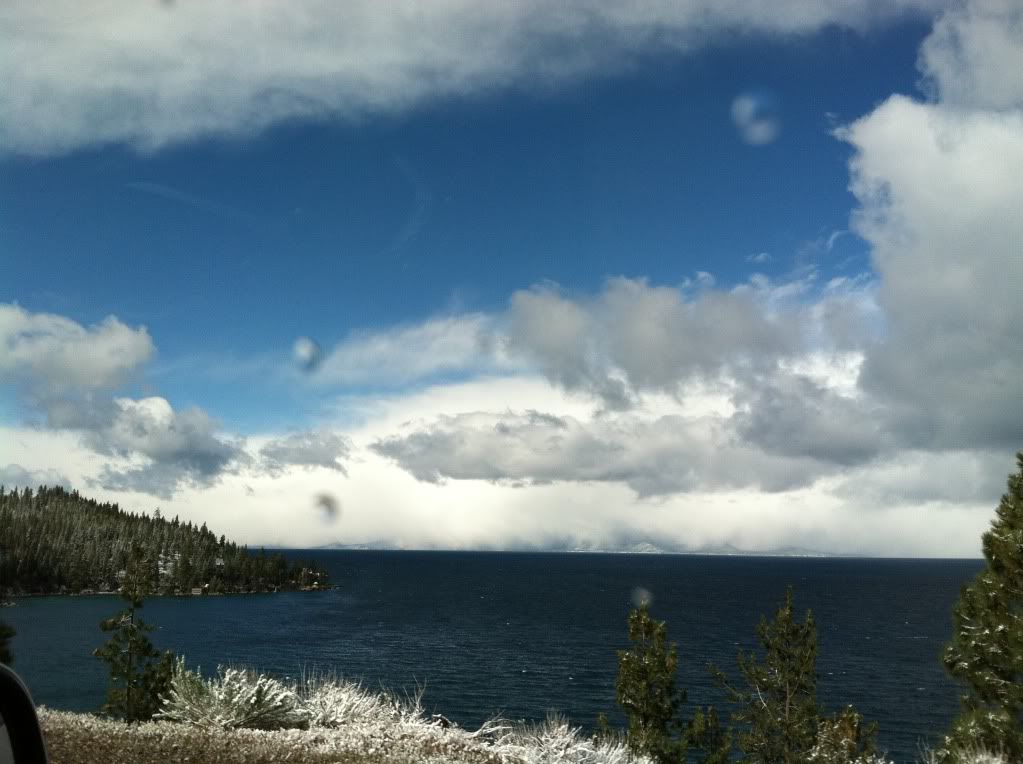 Thirty minutes later we arrived at the hotels; Montbleu for the Euro PROs, and Harvey's for the domestic PROs. We headed into the Montbleu and had a look around.
It wasn't long before we saw Bob Roll and company. All the journalists were down in the lobby checking out the weather. Most of the riders were still in their rooms at this point.
Then, Lyle ran into Allen Lim. He was carrying a tray of scrambie eggs and a bag of tin foil wrapped rice cakes. He gave us one to try and told us to come with him. He was taking them to the team.
We chatted with him as we walked over to the restaurant. On the way over Andy Schleck and a few other Leopard Trek riders walked by. Today was going to be a good day.
There were already a few teams in the restaurant when we got there. Allen told us it was cool so we sat there chatting with him as the other teams rolled in.
One by one riders rolled in. Sagan was over in the corner with his Liquigas buddies. Lars boom was there. The Velit's and Tejay Van Garderen. It was amazing.
I had met Allen at Interbike last year but we didn't talk much. He had some pretty cool stuff to say. He mentioned a
TED talk
he gave in Denver about how as a kid he arranged his whole life around riding a bike, but now as an adult his responsibilities don't allow him time to actually ride it.
We chatted for a while longer until Horner and Klodie rolled in and we knew our time was up. We headed back over to the cafe area where we had seen Bob Roll. When we got there Sagan was doing interviews.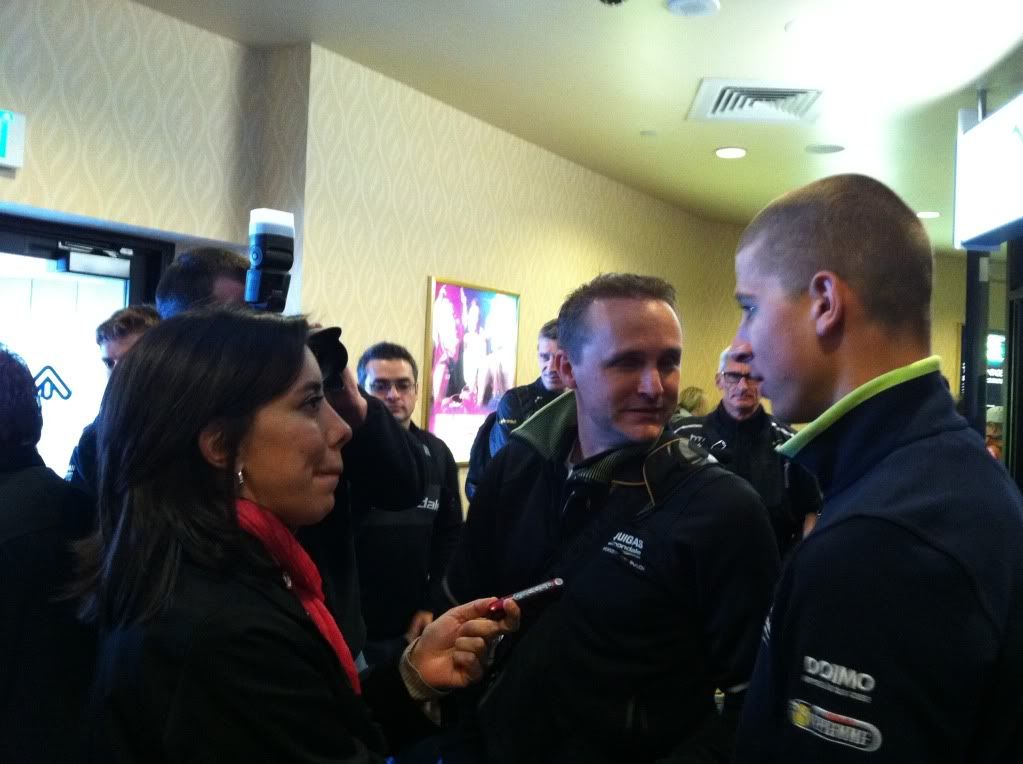 We headed outside to check out the team cars. Along the way I started chatting with Joseph from BTP Films (@BTPFilms), the ones who've done all the
Cervelo videos
. They decided to do a shot with us and that's when a photog came up and snapped out pic. Later we found out we
made Cyclingnews
!
We headed backin and hung out in the lobby. After a while all the big hitters started coming through. Linus Gerdemann, Jens, Ryder, Johan--everyone. I looked over and caught Oscar Freire having a coffee so I had to get a pic with him.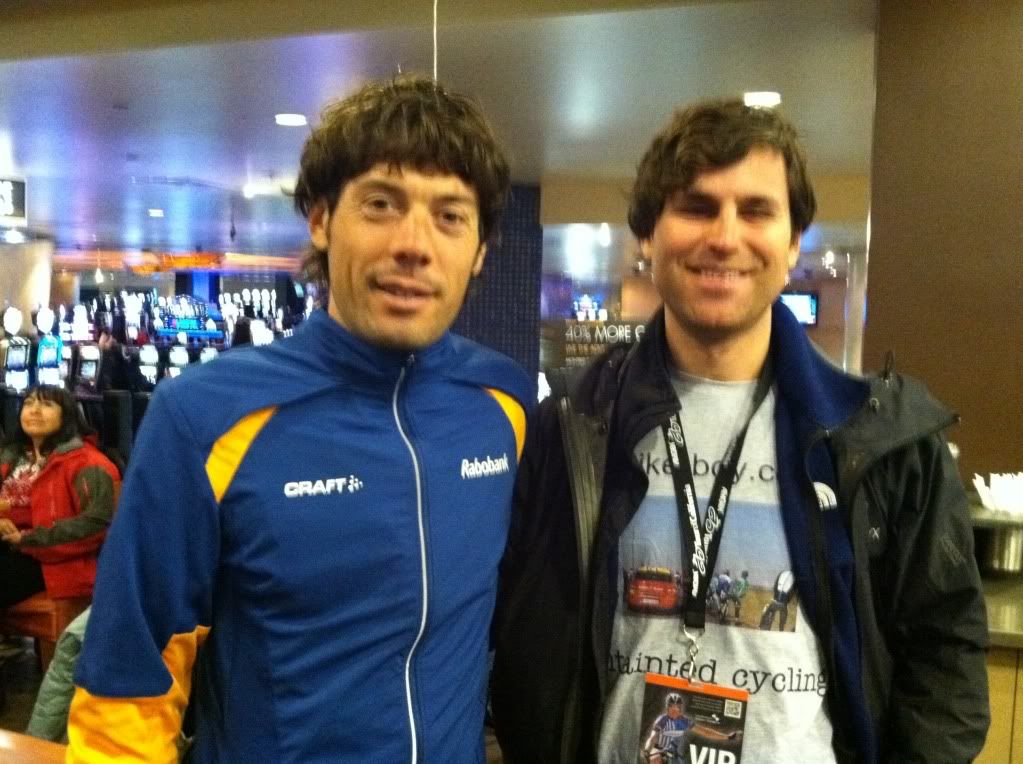 I walked around some more while the guys went to play blackjack. I saw Bob Stapleton so I introduced myself...as a guy who works for a guy who has a lot of money, too. He took my card and gave me his email. I thanked him for all he's done for the sport and we parted ways.
By this point it was about an hour before the start time. We needed to get going if we were going to make it to the finish in time. As we were walking to the car I remember Joao told me to go see the Jamis guys about a ride in the car. I ran over and found them behind Harvey's. I chatted with the DS. He said they had to save room for the media so I ran back and got in the car.
The weather was nice until we got to the climb near Northstar. It was covered in snow and that wasn't the worst. We summited and headed down the descent. It's a 50 mph descent that's sketchy even when it's dry.
Once we were back in the hotel we found out the stage had been cancelled. Bummer. The finish was still set up down at Northstar, though, so we jumped on the gondola and headed down.
All the bike manufacturers had their new gear out on display. I bought a few $25 Kenda tires and met up with Marek. We all had lunch and then parted ways.
Hanging out at the hotel in the morning made up for not seeing the race. Meeting Allen Lim and Bob Stapleton, as well as seeing all the riders, made for an amazing day despite the racing being cancelled.
Race or not, we were still staying at the Ritz. I headed up to my room and relaxed before going to bed.