Monday.
I woke up early again and started checking Twitter for updates about the race. It wasn't long before they announced they'd be doing an abridged stage. I did some work until the rest of the guys woke up and we went to breakfast.
They all went to the restaurant for breakfast but since I wasn't very hungry I decided to get something light and hang out in the cafe. While there I started talking to a guy who worked with the race. Eventually it came out he's on the board of the race and is a minority partner. Sick! We chatted some more until the guys were done with breakfast.
Around 10 we headed to Nevada City for the start. I was worried about my little two door making it over the pass so I roped Jim (@jwbender) into coming with me. He's landed planes on boats so you feel safe with him around. We took off and made it to the start an hour later.
Oscar Freire was out and chatting to the cameramen.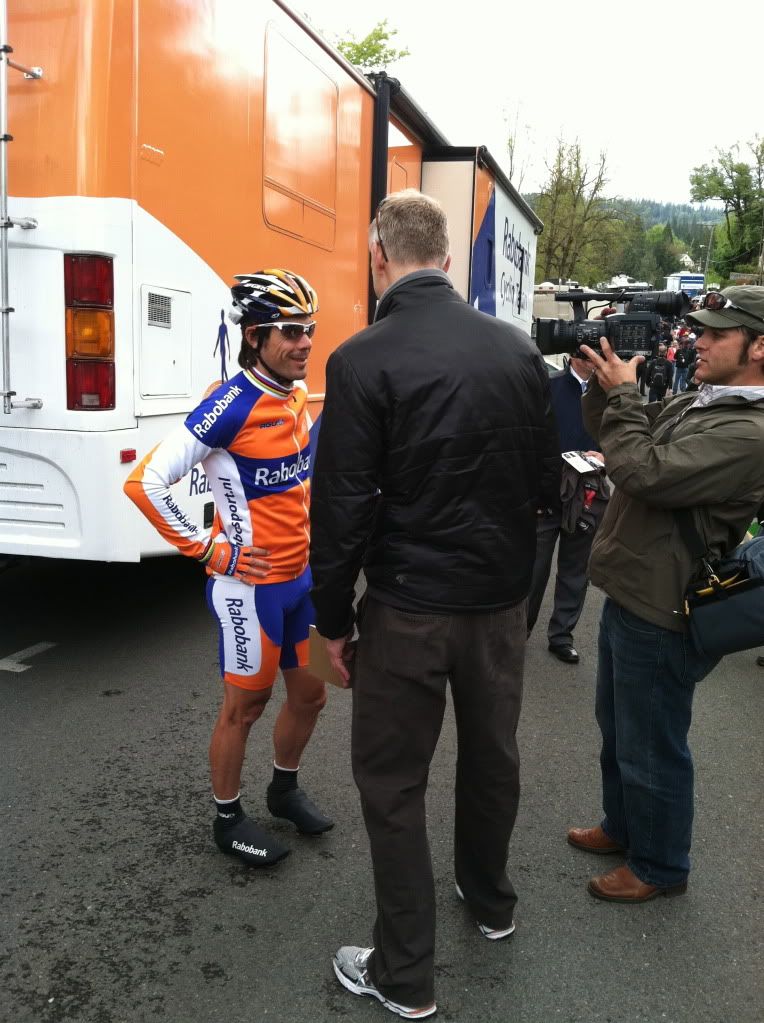 Almost half the Team Sky riders were on the
Osymetric
chainrings. I saw Bobby Julich is working for them so I think that's probably why. He used them when he was racing.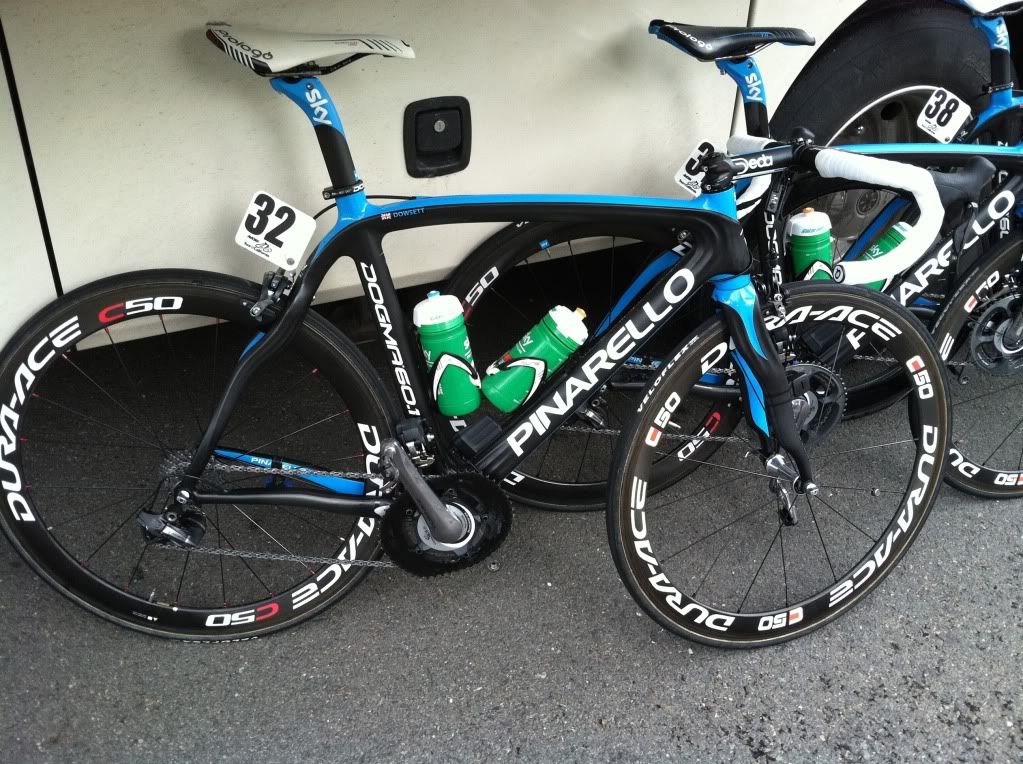 After a while it started to look pretty overcast so the riders all came back to the vans for rain gear. Freire was stuffing his rain jacket in a cut off bottle like a true PRO.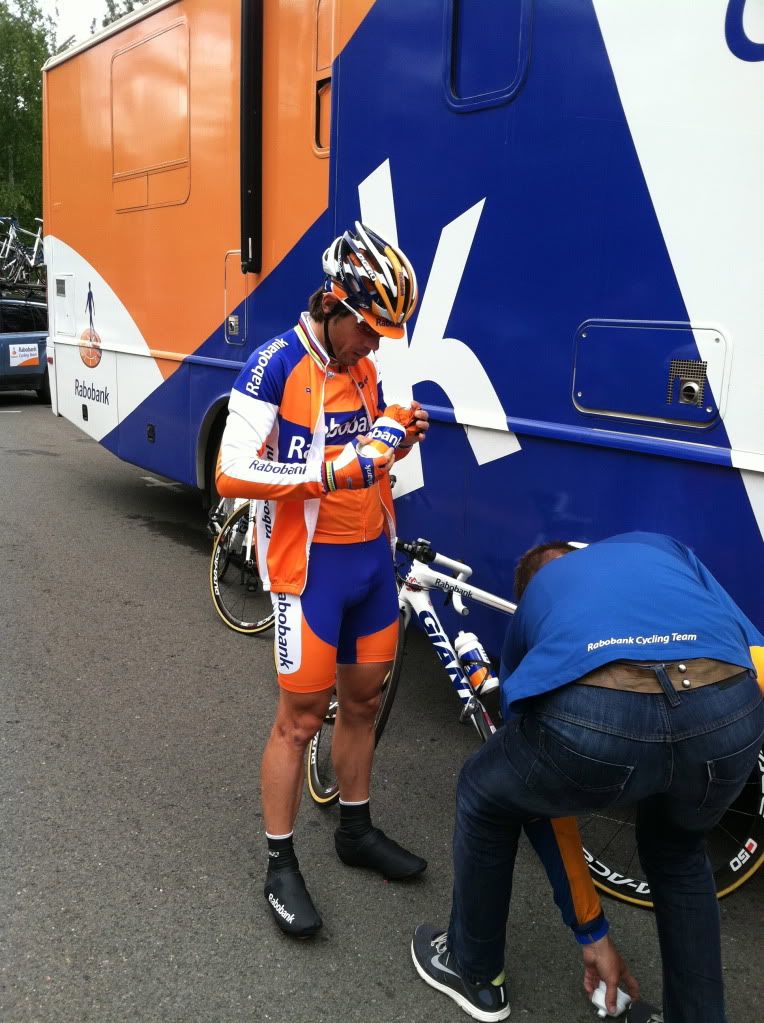 It was almost start time so we headed over to the start. Luckily we came from behind so we were mixed in with all the riders and team cars.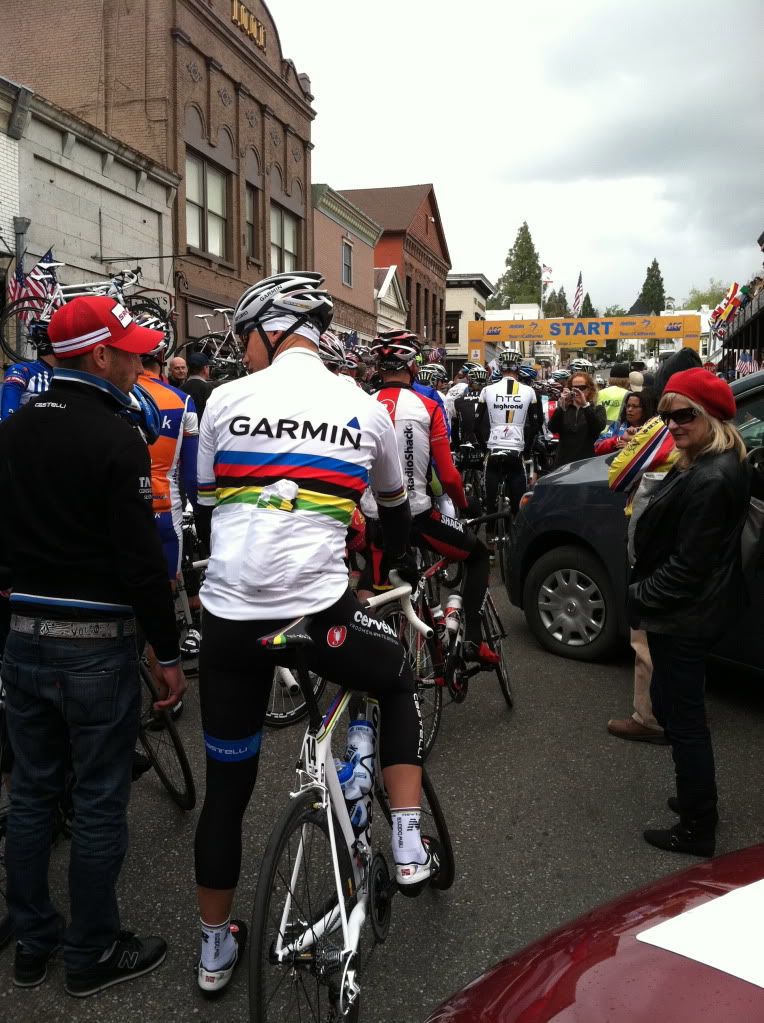 I had a chat with Chris Froome while waiting for the start. It was his first time here in Cali and he was pretty excited.
I also noticed a camera on Tour of Flanders winner Nick Nuyens's bike.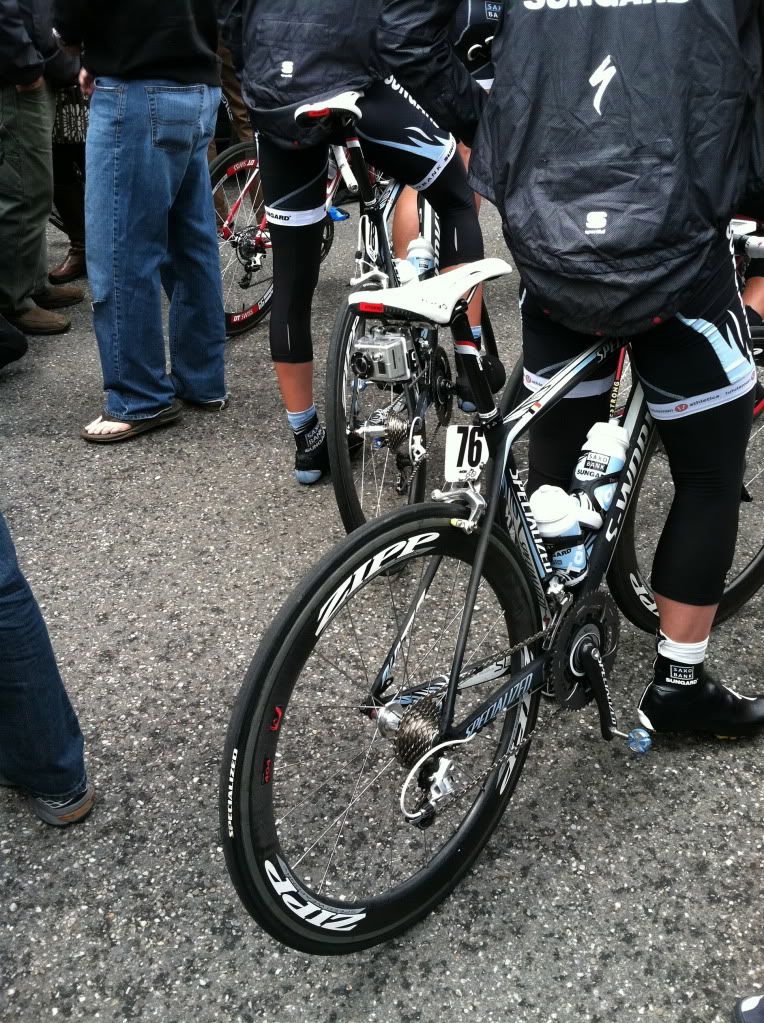 He wasn't the only one. A number of the riders had these
GoPro
cameras on the back of their bikes. (I just checked for some of those vids but I can't find them. I did see they're based in Half Moon Bay--where my parents live and where I'm at right now--so I'll have to hit them up about it!)
Then, Tjallingii rolled near us. I noticed he had a full carbon Fizik Arione. That's a serious saddle so I asked him if he trains on it, too. He said yes. Chamois cream? Nope. He said if you have a good saddle there's no need for chamois cream.
We chatted a bit more. I asked him where in Holland he lived and told him I'd ridden through that area. Then, the race started and they were off.
Jim and I ran back to the car and floored it to Sac. An hour later we rolled in.
We headed over to the finish and checked out all the tents. I tried on a pair of Bont shoes and was totally sold. They weren't even molded to my foot yet and they were my size. Amazing. I'm definitely going to get a pair.
Then, we headed over to the United Healthcare bus. Jim knows the owner, Thiery, so we got to hang out in there. Shortly thereafter Dr. Iñigo San Millán and Dr. George Brooks walked in. San Millán has been the physio for a number of PRO teams including Astana and currently Garmin. Brooks is a longtime Cal professor who helps out with CytoSport.
We got antsy so we headed out to grab some food. There was a Korean BBQ burrito place right on the finish so we all got food there. Before we knew it the last of the lead cars were rolling through. Then, the commissaires, and...the race!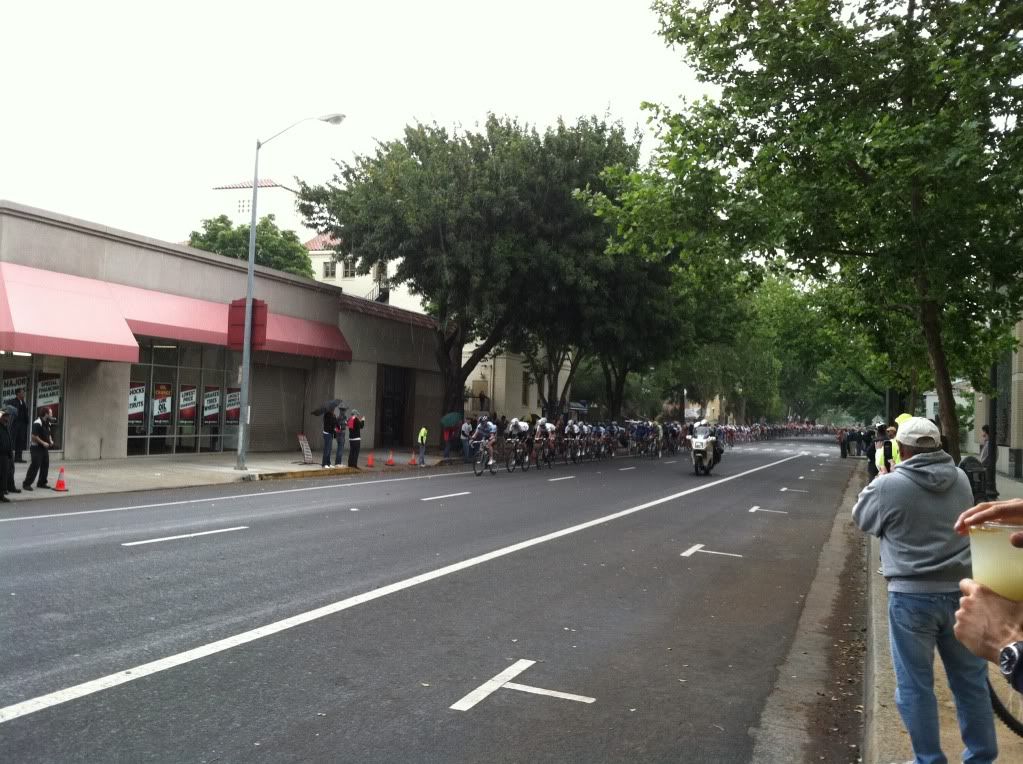 It came a lot sooner than we had expected. We headed down to the corner where we'd watched from
last year
. It was pretty wet out so we were sure we'd see some carnage. There were wrecks on this corner last year when it was completely dry.
Lap by lap the riders came through. And each time they managed to stay upright. The rolled through one final time and we heard Ben Swift had won.
Everyone started to leave so we walked over to the team vans one last time. We saw a few of the guys roll in and then we parted ways. Jim and crew were headed back to Reno so they could fly out to Seattle the next day. I headed over to a cafe to do some work and wait for traffic to die down. This was my third year going to Sac and hopefully there will be many more.