--First off, today's stage of the Tour de Suisse was UNREAL! The last 10k was a lightning fast descent on tiny switchbacked roads coming down from an HC climb. Definitely catch it on Versus later today at 330 pm Cali time.
--On Friday, I
brought up
the Bruyneel quote about Contador riding the Tour. Now, Contador has
confirmed
he will ride the Tour this year.
It will be interesting to see how he performs at the Tour with a whole grand tour (victory) in his legs.
--Looks like Ricco's going back to being a
spin instructor
! That's right, CONI has
suspended him
. Earlier this year he was admitted to a hospital with kidney troubles and allegedly confessed to having botched a blood transfusion. In his
words
, "I was hospitalised for kidney failure, a problem that could happen to anyone, even to that individual who leads a perfect life." I guess CONI found some conflicting evidence.
--Phil Zajicek has
confessed
to doping. Apparently he was one of the ones who bought EPO from
Joe Papp's online store
. For some reason he's been given a lifetime ban. I guess he's been caught before or something.
--The other morning I was watching the Dauphine when I saw one of these new ads for...Kazakhstan!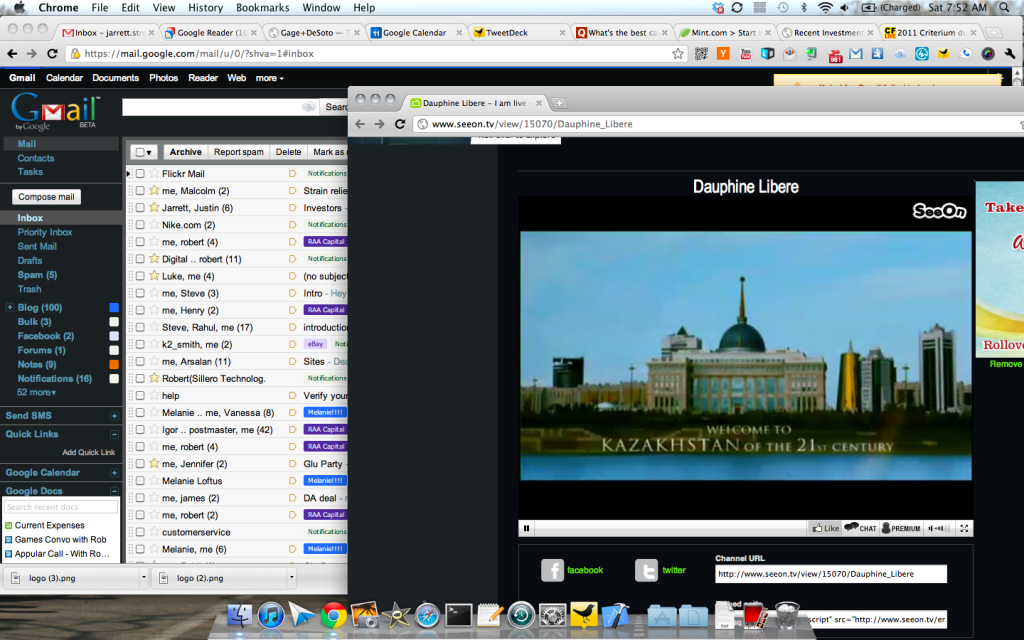 "Welcome to the Kazakhstan of the 21st century." You sold me!
--Speaking of the Dauphine, for those of you who missed the cows the other day here's an overhead shot:
--Cavendish is now a
Member of the British Empire
. I'm not sure if that makes him a "Sir" now or what. I think this is a step below.
Some of you may remember that Chris Hoy was knighted a couple years back.
--Boonen is still shopping for
a team
for 2012. I'm sure he has an offer from Quick Step, but given his lack of performance in recent seasons it's probably not as good as he'd like.
--Speaking of transfers, there are rumors of Goss, Millar, and Langeveld going to
GreenEdge
, an new Aussie team. I could see why Goss would leave considering he'll be in competition with Cav if he stays at HTC. I don't know about Millar, though. He's still a part owner in Garmin (Slipstream Sports) but he is getting a bit old so maybe they're wanting to bring in younger guys.
Tweet