--Bob Stapleton has come out with the news that HTC-High Road's
future
is no longer certain. Despite the most wins in the sport, cycling isn't the first place sponsors look to spend marketing dollars. Non-stop doping controversies--yes, I know it's because other sports just don't test as rigorously (ie Football, Soccer, Baseball, Basketball, you name it)--has made brands hesitant to put money into the sport.
Stapleton has said before that he was having trouble finding sufficient sponsors, which I think is part of the reason they haven't been able to pay Cav enough to keep him from
whinning
.
The article says that he's seeking a 10m Euros a year commitment. To put that in perspective, Chrysler paid $12m (8.4 Euros) for a 2 minute Super Bowl commercial last year. Two minutes, for roughly 100 million viewers.
I know cycling doesn't have quite that much reach--roughly 4m viewers per stage and 20m come to the race--but it's also a year long commitment. And as Stapleton points out, it's not like you're Vodafone putting your logo on Man U's jersey, you
are
the team. It's not Manchester United, it's HTC. (Note: since HTC began sponsoring Stapleton's team, the stock has tripled. Sure, Android and making really great phones helped, but so did marketing.)
In the end, I think that Stapleton will find another sponsor or HTC will re-up. He's got the best team in cycling and he's one of the best owners in the sport. When I was in Tahoe for the
Tour of Cali
this year I got to meet him and thank him for all he's done for the sport. If he can't do it, I don't know who can.
--Eric (@Geslien) sent over a pic of his new whip! Here's his description:
"What makes this mountain bike unique is that it is a 69er, a 29 in the front and a 26 in the back, I took it for its first spin last night on Bobcat trail in Tennessee Valley. What I really like about this ride is that it rolls really well over large bumps and has great traction around corners. In addition, the stiffness and size of the 26 rear wheel makes it climb fast and nimble."
Anyone else got a ride they want to share? Or an opinion piece?
Email
or Tweet (@jstreebin) me!
--Tom Boonen will stay at Quick Step for
two more years
. I'm glad he's staying there but it'd be interesting to see him on another team.
--Tour rookie Wout Poels
leaked the Vacansoleil Tour team
. Way to go, rook! More importantly, big man Stijn won't be there. Not to worry, they've got a handful of guys who are capable of winning a stage.
--Speaking of Belgies, Ben Hermans (RadioShack), Sébastien Rosseler (RadioShack), and Jan Ghyselinck (HTC-High Road)
are at risk
of not being able to compete in the national championships. Their crime? Unpaid social security contributions.
--Sastre comes out and states the
obvious
: Contador is a Tour favorite. No kidding?!
--Spanish team Caja Rural has
canned
the riders implicated in the recent
drug raid
in Andorra, Inquisition style. (I don't actually know much about the Inquisition except that I've heard they had a brutal justice policy of guilty until proven innocent.)
--Longo wins another
national championship
! Yep, that's 58 national titles for her. She also happens to be 52 years old. Wrap your head around that. Longo is definitely one of the greatest cyclists ever, if not the greatest.
I saw her when I did
Fitchburg in 2009
. I was lining up for the start of the circuit race when I realized I was right next to a guy wearing one of those old school kits she wears. I started talking to him and soon realized it was her husband. Then, I look over and...okay, just read
the post
if you want to hear the story.
--Lastly, I'll leave you with this super awkward
pic of Wiggo
: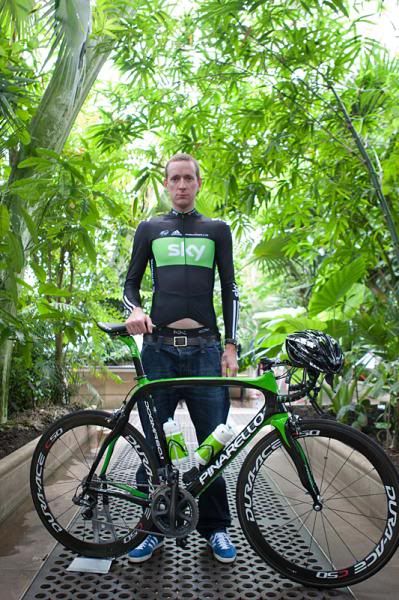 Tweet