--Yesterday was the big race in TD Bank International Championship in Philly and Versus was nice enough to air the last chunk of it in the prime time bass fishing spot. Mancebo led a four man break for quite a while before getting swallowed up. And by lead, I mean he was on the front of the break almost the entire time.
I tuned in a bit late but just in time to hear one of the commentators giving it his all to get in good with Lance. Through some roundabout logic the guy was trying to say that because of Lance's influence the sport was now cleaner. That because of all the money he brought to the sport it's now better for the guys coming up. I didn't think it could get worse than Steve Schlanger...
There was a pretty gnarly crash with about a k to go. Some guy's bike flew about 20 feet and then he got nailed by another rider. Alex Rasmussen beat Sagan by a wheel for the win.
--Wick texted me during the race to point out Team Exergy's
groupo
. Check those things out! Microshift!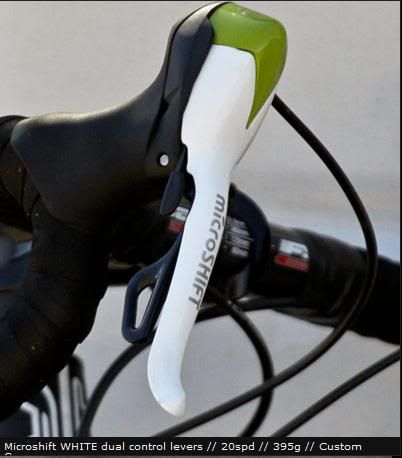 I mean, I agree a lot of the groupo is just marketing but these are pretty bad looking.
--Speaking of sick gear, Evans is rocking a
new BMC
at the Dauphine. Don't forget they'll be airing recaps on Versus at 5 ET.
--Nate English
won the overall
at Mt. Hood! Nate's a fellow Cal alum.
--WADA is suggesting Contador
skip the Tour
! First, I don't think he'll heed their advice. And second, why didn't they recommend he skip the Giro? Why just the Tour?
--This guy has
some pics
up of the motos that crashed when they went out to recon stage 1 of the Tour of Cali.
Tweet