--RadioShack has
re-uped
as sponsor through 2013. Last time I checked there's a federal investigation into half the teams riders. And as Brenon pointed out, RadioShack was just
removed from the S&P 500
.
This isn't the first time Johan has driven a company into the ground. Remember the Postal Service? It recently has had to
suspend payments
to its pension fund in order to remain solvent. Okay, so it wasn't all the team's fault the Postal Service tanked. There was the whole email thing. Oh and Bukowski.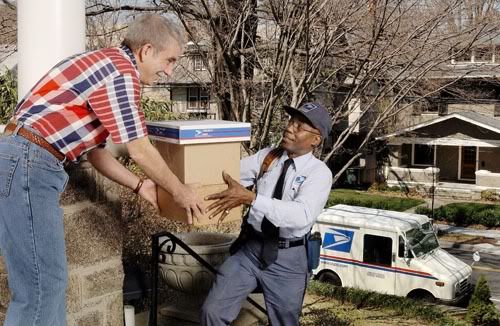 All the negatives aside, this is the best marketing RadioShack could get for $10m a year. The amount of reach the team has got for that money is unprecedented. Plus, no one in the mainstream really cares if Lance took drugs. Especially not anyone who would actually shop at RadioShack. (Confession: I did go to a RadioShack once because I needed a battery for my Powertap.) Thanks, RadioShack, for keeping cycling rolling.
--The UCI has
flagged
a number of riders' samples. Why are they telling this? Maybe to make it look like they're doing something?
Ever since the Biological Passport was introduced the UCI has been making these nameless statements. "Someone's in trouble but we're not telling who." If anything, it serves as a warning to riders who are planning on doping for the Tour de France. In fact, it's very possible that that's what it is. That's like the IRS sending out a letter to 150 people saying we believe some of you are cheating on your taxes. It will certainly make some of them stop.
--Looks like Europcar is
interested
in Hushovd. And why not? He'd be a great addition to the team, especially with Voeckler there. Plus, I think Garmin would let him go. If he continues to perform the way he has this year--I see him winnning one Tour stage at best--Garmin probably wouldn't be willing to pay a premium for him. Especially after he gives up the rainbow jersey. And for a team like Europecar it's more worth the extra money because of the publicity.
--Qatari Airways
announced
it will be flying the riders during the Tour de France. Typically the riders take the high speed train from the south of France back to Paris for the final stage. This year they'll load them all on a Airbus A330.
--In the lastest
"Ask Nick"
there was a question about what riders are handed to drink during a race. It's not worth reading except that he mentions Cancellara's beverage of choice:
"Cancellara used to ask for a small bottle of sparkling water, a Perrier or something similar. He said it refreshed him more than plain water."
I love it. He could be the new Perrier man, a la Lance and Michelob Ultra. "When my legs are falling off after 150 miles and two HCs, I choose Perrier!"
-You know how Lance used to ride tires that had been aged five years? Well now you can get your own pair of
aged tubies
. That's right. Hutchinson is selling
ProTour
WorldTour grade tubies that have been aged for six months.
They aren't cheap, though. In an effort to corner the rich Fred market the French tire manufacturer has priced these at $500 a pair! Not only that, they're super limited. Only 340 pairs are being sold worldwide and only 34 of those to the US. And as of a week ago half of the 34 were already sold.
Tweet