--Looks like Omega sprinter Andre Gripel is
greipeling
again. Apparently he's been upset about
having to support
his teammate and green jersey wearer Philippe Gilbert.
(Note: I think this is a pretty controversial story for the team. Cyclingnews has posted two stories about it, both of which they posted briefly, then retracted, then posted again. They usually only do this with articles that cause a stir, like the one about the Astana soigneur claiming Contador took a blood transfusion during the Dauphine.)
Does this sound familiar? That's because this is the same reason Greipel left HTC. He was second fiddle to Cav and didn't like it. Now he's second fiddle to another superior rider and look what happens.
Greipel's whines have risen to such a level Omega has now agreed to support Greipel
at the expense of the green jersey!
If the HTC affair didn't make it clear why you don't want this guy on your team, this should. Gilbert has probably the best shot of anyone right now to actually win the green jersey. He's a far better climber than his rivals which could help him maintain point in the latter part of the Tour. But Greipel's willing to sacrifice all that, not so he can take the green jersey or yellow or anything significant to the team, but only so he can get his first Tour stage.
Why hasn't he got a Tour win yet? Part of it is in previous Tours he was always riding in support. The other part is he's just not as good. Greipel's a guy who can win 20 races a year, but all in second tier tours like the Tour of Turkey, Britain, Poland, and Austria. (He did win four stages of the Vuelta in 2009, but that was the year guys like Ciolek and Bozik won stages.)
At the end of the day Greipel is a great sprinter for a continental team. Put him on Vacansoleil or Movistar and he'd clean up at most of the races they do, and would have no competition within the team. But as long as he's on a ProTour team with solid talent, he's going to be Greipeling...
--Cav finally got one on Wednesday. It was probably the most unlikely win of his career considering how much of an uphill sprint it was. Oz Cycling, some Aussie cycling nuts, had a pretty good interview with Cav:
Some of you may remember their
hilarious interviews
after Barredo went postal in last year's Tour.
--The first few stages have had quite a few crashes. Renshaw attributes some of this to
GC guys
struggling to stay near the front. After the scare Contador got on stage 1, you can see why they'd want to be near the front at all times.
--Speaking of crashes, Wednesday's stage saw Sorensen's bike get taken out by a moto!
The stage was host to an inordinate number of crashes, which Pescheux blamed on
"nervousness."
He goes on to say "There are not too many motorbikes." A day after saying there aren't too many, ASO responded to the criticism by
reducing
the number of motos for next year's race. Currently there are 16--I guess 15 since the moto that took our Sorensen was
booted
--and next year they will only allow 12. That being said, next year's a long way off and I think this is just politicking as usual for the ASO. My money says there will be the same amount if not more next year.
Levi also had an awful, one man crash into the metal barriers in yesterday's wet stage. It looked as though he slipped on the paint with about 15k to go.
--Pescheux isn't a
complete waste of space
. He did manage to issue a make up call in yesterday's intermediate sprint. You can check out the sprint
here
. Rojas, the green jersey holder at the time, rides laterally across a whole lane in order to block Cav. Pescheux
relegated
both Boonen and Rojas for the maneuver.
--Cipo voiced more
concerns about Cav
. His gripes are similar to
previous ones
. The article also includes quotes from Piper saying Cav is restless and doesn't really have a home. It also mentions him showing up to the Tour Down Under last year overweight.
It seems Cipo's sees a lot in Cav and wants him to do better. In his latest comments he states he'd have won 25 races this year if he had what Cav has. I think a better approach would be to call Cav but it's doubtful Cav would listen to Cipo. Maybe the best approach is through the media, which Cav clearly keeps tabs on.
Romain Feillu also
weighed in
saying Cav's as arrogant as Ricco. He claims Cav wages a "psychological war." By saying this, Feillu drops his own psychological bomb. Cav has made it known how much he hates Ricco so comparing Cav to him is a strong blow.
Feillu also criticizes Cav for always saying he's the best, which is a valid point. If you're the best, why talk about it?
--Lastly, I'll leave you with a fun tech piece Dylan sent over. Here's a shot of
Mollema's bike
. There aren't any covers on his shifters!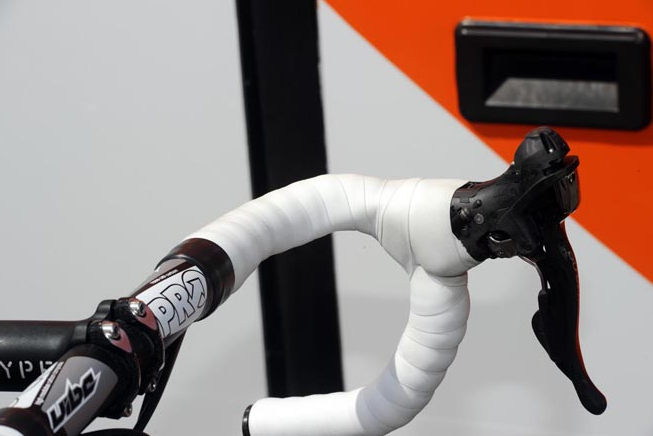 Tweet