--Thursday's stage saw an amazing attack by Andy to boost himself up the GC standings. It also was the day that Cav
missed the time cut
. (Time cut = winning time + 13% of winning time.)
As most of you know, time cuts aren't absolute. That is, if you don't make the time cut they don't always cut in. Exceptions are on stages like Thursday's where the whole group of sprinters finish outside the cut. In this case they let them all stay in the race.
However, recently they started docking sprinters points for not making the cut. Otherwise, they could theoretically just take all day getting there in one big group. This happened in last year's Giro when Farrar finished outside the cut and subsequently
lost the red jersey
.
The cool thing about all this was I actually got to see the grupetto finish. I know, you're baffled, let me explain. I was watching the EuroSport feed and then they switched to soccer or something because the race had already lasted longer than scheduled. Then, whoever was running the feed switched it to the French coverage of the race. They were still at the finish line chatting with riders and discussing the race. After a while they started looking at the time clock which showed the current time and a static time they called "Delai" which I took to be Francish for "time cut for last ditch effort to keep Cav out of green." Okay, I don't need to do the play by play but basically Cav and the rest of the grupetto was outside the cut.
But they actually showed it on air!
It was such a novelty.
(Cav was docked another 20 points after
missing the cut
on Alp d'Huez.)
--Yesterday's Alp d'Huez stage was unreal. The fans were completely off the hook and it was amazing to watch.
After watching the fans in the "Dutch Corner", or "Dutch Oven" as it's known, I definitely know where to watch when I make it to an Alp d'Huez stage.
Here's a pic I snagged from
Cycling Tips
(lame name but they'd had the best posts from each stage of anyone).
These fans also gave Voeckler a tough time when he came through which added to their cred. Voeckler continued on with the breakaway group after Hoogerland and Flecha were taken out by the driver.
Also, Contador gave this guy the
Lance treatment
while off the front (of the GC group).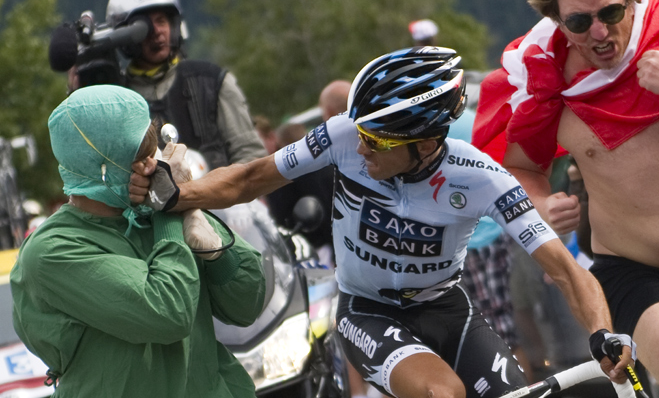 Tweet