--A reader of
Monday's post
linked to a pic of the UCI's measuring jig for the stunt it pulled at the TTT. Wait for it...: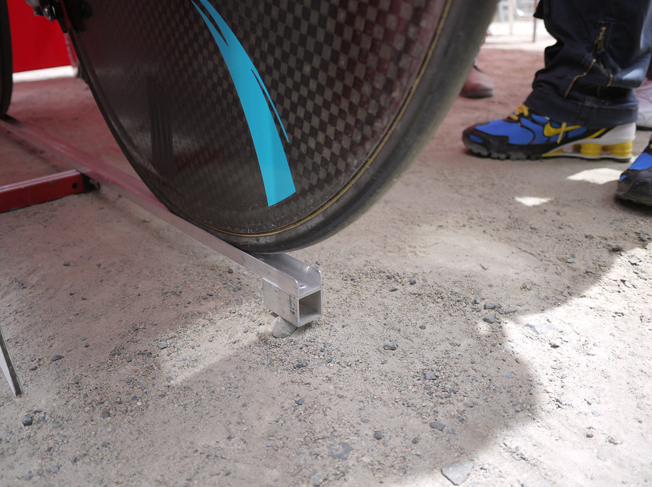 You'll notice they used an atomic level to insure fairness when measuring the bikes. Oh wait, what's that? Oh sorry, they used a
small rock
on a dirt patch to insure the jig was level. (The jig being level was an important part of the equation since it was used to measure saddles on the TT bikes.)
If the unannounced, jerry-rigged saddle check on the worst possible day wasn't enough to deem the UCI totally incompetent, the following day Pescheux
relegated
Thor and Cav for...bumping shoulders at the midway sprint. No joke. Something that's standard and necessary, is now relegated. (Note: an Ag2r rider pulled the same thing in the last 500m but nothing was said. You can't take sprint points from someone who doesn't have any...)
As if that weren't enough, the UCI has
increased random bike checks
.
First it's the surprise inspection on the TT bikes, then the continued efforts by Pescheux to keep Cav (and Thor) out of green, and finally random bike checks...and that's only four stages into the Tour!
It's clear from the actions the message the UCI is sending
"We're pissed about the race radios being allowed, so we're going to ban everything else."
This way of thinking makes sense, mostly to 12 year olds, but not for the governing body of the sport. These petty actions indicate a total lack of leadership and direction at the UCI. As is, the UCI is a threat to riders' safety, to sponsors (both equipment manufacturers and corporate sponsors), and to fans.
At the end of the day, it doesn't piss me off that guys may be doping--there will always be these--it pisses me off when the rightful winner isn't rewarded because of a race official.
Tweet