--Katusha's Kolobnev is the
first positive
from this year's Tour. (I love how Cyclingnews even calls it the "first" positive of the Tour. Thanks, guys.) He tested positive for a masking agent I can't pronounce and
claims he didn't do it
. The real question is what will happen to his 2008 Olympic bronze medal which he inherited from Rebellin, who tested positive.
The positive couldn't have come at a better time for the UCI and ASO. Anything to take the attention off their complete mismanagement of this Tour. So far we've had an incident with a
moto
, a
car
, and repeated
petty enforcement
by the UCI. And we're only half way to Paris.
--In related news, after all the bloodshed the UCI has decided to
take action
. Oh wait, I misread that article. After all the crashes and riders getting taken out by cars/motos, the UCI has decided to
study
the reasons for the crashes. Study, not act, because why should we expect the UCI to take any real leadership in the safety of the riders? It's clear with two riders being hit by Tour drivers there are too many cars, but doing something proactive on behalf of the riders is completely beyond the UCI under current management. In the end, it's just paying lip service, like
the ASO
.
--This is pretty sick. Some ESPN guy Tweeted he
"was laughing"
when he saw the Hoogerland/Flecha crash the other day. (Please excuse that article, Washington Post couldn't be bothered to get the pictures right on the crash.)
He's not the first ESPN anchor to make inhumane comments about cylists. Just last year Tony Kornheiser advocated
"tapping"
cyclists.
--Contador got to
meet the person
who caused the stage 1 crash. It wasn't a woman like was reported, it was a kid! He says he's not really a cycling fan but that he had heard of Contador.
--Okay, enough of that. Greipel had an AMAZING sprint yesterday. I was bummed to see Cav lose, as I usually am, until I read
Greipel's comments
on the win.
"It was always hard for the sport directors to make a decision to take me or Cavendish to this race, he is one of the greatest sprinters on earth."
He goes on to say how happy he is to have joined Omega Pharma and be able to ride the Tour. It really touched me. He wasn't angry at Cav, or HTC, he just wanted to ride the Tour and have a shot. So he went where he'd get that shot and yesterday he got a win. And with that, I became a Greipel fan.
--One last note, stage 9 saw the end of
Vino's Tour
and maybe his career. He broke his femur and will definitely be out the rest of the year. I was really saddened to see he'd crashed out.
--I'll leave you with this pic of Oss that rivals the best of Cipo and
Pippo
: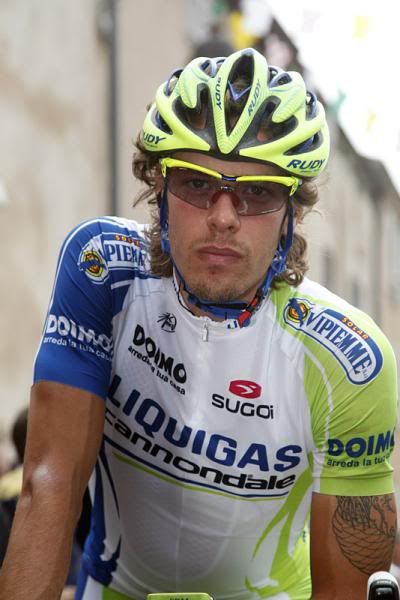 Tweet