--The Golden Gate Bridge recently put in
striping
on the east sidewalk to help with the excessive traffic. (The bike-only west sidewalk has been closed for the past few months.)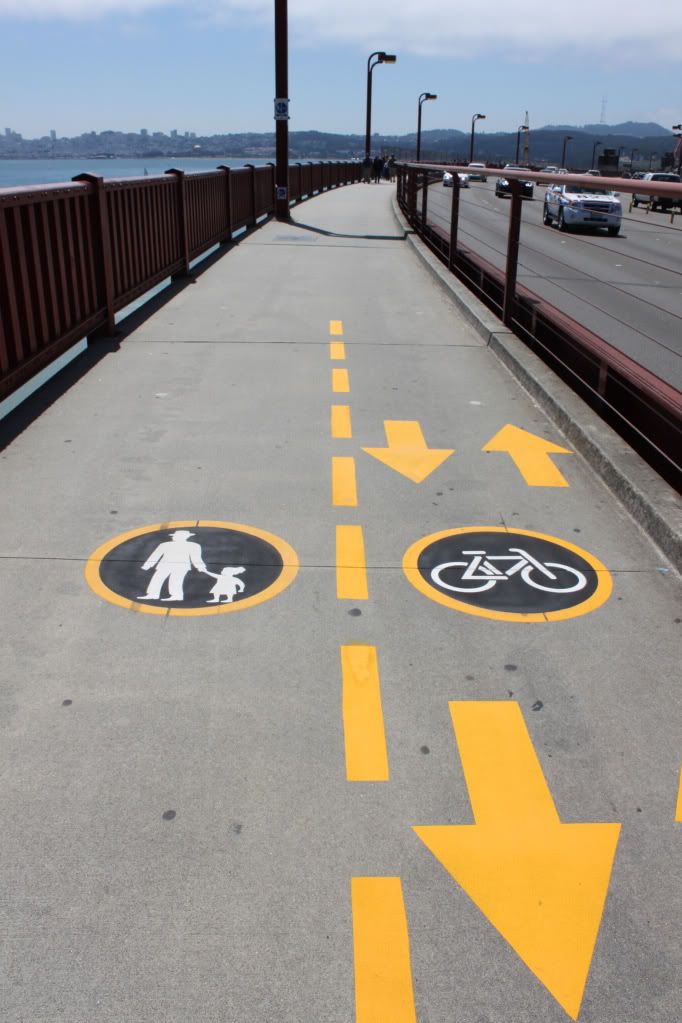 I think this will help considerably since many tourists don't realize the sidewalk needs to be shared with bikes. This will continue to be useful even after the west sidewalk reopens since it's not open all the time.
The Bridge also put up these handy signs: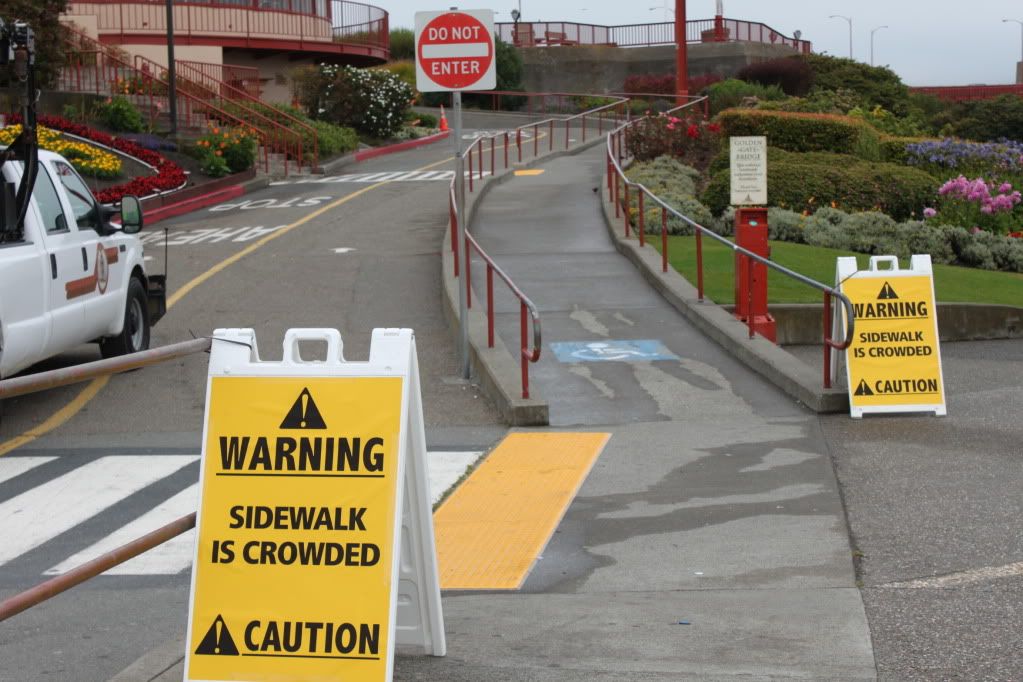 I agree that warning people there are more people ahead will help with the problem of people ahead.
I will commend the Bridge Committee for its diplomacy on the issue of bikes on the bridge, though. Initially they commissioned a study which came back laden with
errors
. Due to these errors and the recommendations in the study, the Bridge proposed a speed limit on the Bridge. However, after
much ado
by the SF/Marin bike community the Bridge Committee reversed its decision.
The west sidewalk is scheduled to reopen on September 30! Please take that with a grain of salt since the whole project was supposed to be done over the winter.
--Sagan went on to
win
the Tour of Poland on Saturday. He says he's hoping for stage wins at the Vuelta and I'm sure he'll get them. I wonder if he's not doing worlds because Slovakia doesn't have a team. I think he's got the talent to win it someday.
Meanwhile, Feillu
fractured his collarbone
in the final sprint of the Tour. I think it's pretty impressive the results he's been able to notch given his lack of a sprint team. That being said, he's also super erratic and seems like a real danger to the rest of the sprint most times.
--Velonews has a summary of the
reactions
to HTC's demise. Here are two that I liked:
@MarkCavendish: So funny how easily people forget that @HTC SAVED this team 2 years ago. Shouldn't you hate EVERY company that DOESN'T come into cycling?
@joepabike: Stapleton's failure to secure backing for a 2012 team demands your scrutiny and skepticism. All is not what it seems in this sport.
I'm surprised Velonews quoted Papp but I think he's right on. If the winningest team (in history?) can't maintain sponsorship something is seriously wrong. Take this year's Tour for example. The failures of the management--cars/motos taking out riders, unjust regulations of bikes and riders--made more news than the riders themselves. And that's just one example. As long as UCI continues its irrational and dictatorial reign under McQuaid the sport is going to have this problem.
--I'll leave you with a pic from Velogogo. This is Alberto Blanco riding the RAAM. Apparently his neck went out so he rigged that support. Also, notice the toes of his shoes are cut off!
Tweet