--It's another sad day in cycling as Bob Stapleton
announced
that his team will fold at the end of 2011. He mentioned a merger and other lesser sponsorships but knew they wouldn't be able to compete at the same level if they did this. Also, he said one of the issues is having to compete with teams like Team Sky and Katusha, "super teams" as he calls them. These teams have almost more than twice the funding of HTC. This makes it all the more remarkable what HTC has accomplished. Bob did amazing things for the sport and he'll definitely be missed.
--Looks like I was wrong on my
prediction
that they had found a sponsor and Cav was staying. Apparently there were a couple deals in the works but they all fell apart at the last minute. Many have linked Cav with Team Sky but given his
comments
I doubt that's the case. "It's irrelevant the nationality of the team I go to." said Cav. I think what he's saying is he doesn't have to be on Team Sky.
However, here's a
breakdown
of possible signings by the Australian outfit by Cycling Tips. They mention Renshaw but say that he'll go with Cav to Team Sky. Cycling Tips is an Australian blog so they'd probably know if he was coming to GreenEDGE. Maybe he'll be riding for Team Sky after all.
--On a lighter note, Amgen has decided to
continue
its sponsorship of the Tour of Cali! The biotech firm signed a contract rumored at $3.6m per year until 2013.
--After an almost complete no-show this season due to injury, Taylor Phinney is slated to
ride the Vuelta
. That seems like a pretty tall order for anyone who hasn't raced all season, little on a neo-PRO. If it's anywhere near as hard as the Tour or Giro I'd say he won't even make it halfway.
--Pez has a really cool piece up about a post-Tour
kermis
with lots of great pics. If you're interested in Belgian racing I have several posts from my
summer there
as well as
pics
.
--Ricardo "Anyone can have kidney failure" Ricco's ban has been
extended
. No surprise there.
--Andy Schleck says he
needs to work on time trialing
...
--Michael Ball says it's
not a comeback
, but there are some "weekend warriors" who want to rock the Rock kits. According to Jim (@jwbender) they were some of the most comfortable kits out there. The bikes, that's another story...
--Lastly, I'll leave you with a pic from BART's new bike-friendly homepage: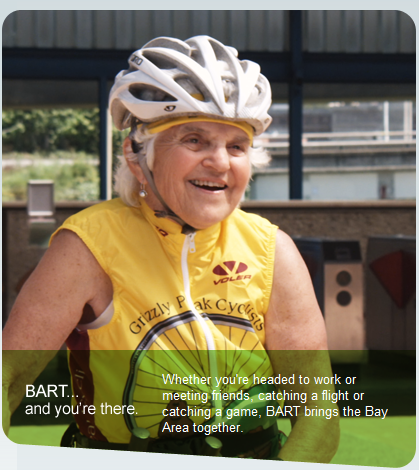 Tweet