--Ullrich is back to
riding again
. He recently rode a sportif in Bolzano and was well received by his fellow riders. According to the article he'll be doing more rides to benefit his charity. Now's your chance to ride with Jan!!
Looks like he's trimmed down a bit since the last time we saw him: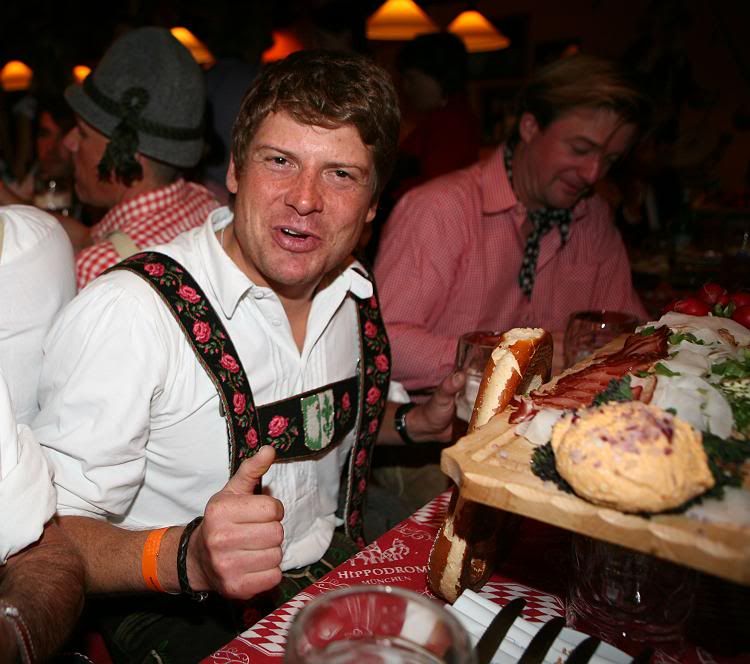 --Gerard Vroomen has a good response up to the recent
Bio Passport
.
"Some people saw my post as a bashing of the UCI, but actually it is quite the opposite and therein lies part of the problem. As long as people see the biological passport as a UCI thing and therefore look at them to solve any issues, it won't work. Riders, teams, races all have to understand how vital the biological passport is and find a way together to make it work. Some are actively supporting the UCI, others are not."
But of course, the UCI and McQuaid, can't take criticism. Instead of Vroomen's comments being constructive you end up with a Vroomen vs. UCI situation.
This is just a microcosm of the greater problems posed by the UCI. The sport is quite literally dying while the UCI remains perched in its ivory tower. The situation is totally analogous to the US right now. You have the politicians--on both sides--completely disconnected from the constituents and reality. In the end, they can't survive without their constituents, just like the UCI can't survive without the teams. It's time to start making decisions that will foster investment in the sport instead of continuing with this erratic dictatorship.
--Looks like Thor has been left off the team's
Vuelta roster
. Although this is unfortunate for the world champ, I totally agree with JV's decision. When asked if it was personal he replied:
"That's a fair question. I have a lot of respect for Thor. He is a gifted athlete," Vaughters said. "Like the Tour de France, we had 15 guys who could have done and deserved to do the Vuelta this year. So roster selection was very difficult. At the end of the day, the Vuelta team will be, for the most part, riders who didn't get to do the Tour and young riders we want to continue to develop for the future."
That's exactly it. There's no use wasting good miles on free agents. Especially when they don't even
like your team
. Hats off to Vaughters for great leadership and great management.
--In other bad news for Thor, Cadel has reassured the Norwegian he's the
only leader
on BMC. In the words of Cuddles:
"I said, 'Jim, if you want to bring in a sprinter I won't be riding the Tour with a sprinter because I've done that, I've done my share'," he said. "If I do the Tour I want to do it for the win — either that or I can do the Tour of Italy or the Tour of Spain or something. I was very clear about that and Jim was accepting of it. Thor comes to the team on the understanding that to win the Tour everyone has to be dedicated to the cause, especially in the modern era where teams are becoming so specialized in what they go for."
With that being said, the burn gets even deeper for Garmin. Thor left the team because he wanted a team built around himself. So he goes to a team where he's put in his place within the first week of signing? I guess it wasn't about that after all.
Maybe the all for one, one for all Garmin was too much for the aging sprinter. Now that this comes up, I can't help but think they're better off without him.
--David Clinger has been given a
lifetime ban
. Some of you may remember him as the tattooed face guy. Apparently he was down in Bolivia or Peru on coke and decided it was a good idea.
His latest idea was taking clenbuterol while already on a two year suspension. After Contador was caught for this it seemed as though it was something no one would ever take, given the detectability and minimal gains. Either it's in everyone's meat or someone's not telling the truth...
Tweet