--Looks like where there was smoke there was fire. Yesterday it was
confirmed
that RadioShack will merge with Leopard Trek.
Despite what Vroomen
said
about 27 riders already being signed with Leopard and 13 with RadioShack, the article states: "All contracts with riders and staff that are already signed with Team Leopard-Trek or Team RadioShack will be respected." I'm not sure what that means if the new team will have 30 titles. Someone's math is off or Vroomen had the numbers wrong. (He also had some really
interesting comments
right before it was announced.)
Anywho, this seems like bad news for cycling from simply a dollars in perspective, little on making it that much more difficult for non-super teams.
--Sunday morning was the one of the steepest stages in cycling,
the Angliru
. Contador won here in 2008 with a 34x32! It's so steep Sammy Sanchez said he can see it from his house but he's ridden it only once. This stage truly separates the men from the boys and that's exactly what it did this morning.
One thing that stood out was Wiggins losing time again. I know, it's one of the toughest climbs there is, but am I the only one who thinks this guy isn't going to pan out? His own domestique, who by the way has done an awesome job, finished ahead of him--I'll say nothing of the poor kid having to give up his chances at the leader's jersey just to help Wiggo choke. Let's just call a square a square, and the 2009 Tour a fluke. He's had plenty of chances (and will get plenty more), but I can't see him every winning (or even podium?) a grand tour.
--The investigation of Ricco's emergency room visit
has concluded
. The investigators believe he did in fact give himself a transfusion. No surprise there.
--Looks like after all Tommeke's
saddle issues
at the Vuelta he
crashed out
. Unfortunately, this ruined his chances for Worlds, which I wasn't banking on him doing well, but it did get him some time to heal his back side, which is nice.
I'll leave you with a pic of him from the
good ol' days
...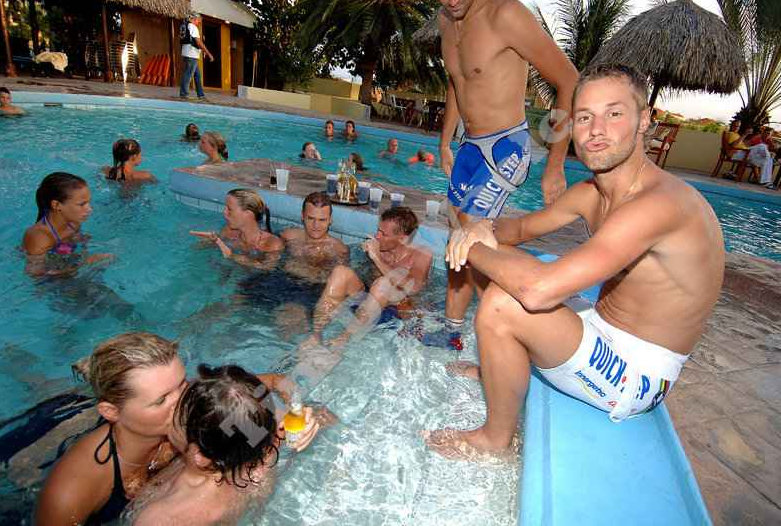 Tweet