--Looks like there's still a lot of uncertainty about the merger of Leopard and RadioShack. First, there was the completely vague PR which Vroomen
took issue with
. On top of that, head DS Kim Andersen
didn't even know
about the merger.
Car sponsor Mercedes was also
unhappy
about Nissan taking it's place as the car sponsor. Mercedes's deal with Leopard was supposed to last two more years (and they were
very nice team cars to ride in
). Becca
responded
by saying they had a contract they could cancel at any time. Let's hope those marketing dollars come back to the sport through another team. Although after an incident like this it's unlikely.
This morning an article came out with
statements
by Becca and Bruyneel. Looks like Leopard has 25 current riders with five set to expire. In those five are O'Grady and Jens(!!). There are 30 current riders at RadioShack but a recent post by Vroomen indicated there were only 13 signed for this year. The new team will have 30 total riders with 20 from Leopard.
Meanwhile, Riis
isn't worried
since he has the "best racer in the world."
For those of you interested, Vroomen goes into detail about the
licensing issues
associated with merging teams.
--The past few stages of the Vuelta have been off the chain. Tuesday, there was a mix up on which way to go around a roundabout in the last k which totally
threw off the sprint
. Wagner
apologized
for going the wrong way even though he
followed the motorbike
. Not only was the wrong side of the roundabout open, but the leading moto went that way!
This is a total fail by the Vuelta, but after cars and motos gunning down riders at the Tour, seems like a minor infraction. No less, Haussler and Bennati
were not happy
JJ Haedo was on top of things and ended the stage
very happy
...
--Looks like after Cobo's amazing win on the Angliru there was chatter about doping. To which Wiggins gave Cobo
the benefit of the doubt
. Wiggo said the right thing, and lucky for him considering his own teammate beat Cobo yesterday!
--Speaking of, yesterday was one of the most exciting finishes this year. The battle in the last k was out of this world.
--Competitive Cyclist has
been acquired
! These guys have done it right for a while now and hopefully this will help them do more of it.
--The political showdown in Italy over austerity measures (or the lack thereof) has
hit cycling
. The other day at the Giro di Padania protestors took down route signs and attempted to block the race (which was diverted to avoid problems in the city center).
Even the beloved Basso
got slapped
.
--LeMond, as in Greg LeMond, is coming to Cali to do an assortment of
Fred rides
. He'll be in Palo Alto for the events put on by Echelon.
--In a last bit of transfer news, De Maar is heading
back to UnitedHealthcare
. He's had his fair share of time in the big leagues with stints at Rabobank and recently Quick Step, not to mention being in break at the Vuelta the other day, but he's yet to find anything that sticks.
Meanwhile, Craig Lewis is one of the few from HTC who
hasn't found a ride
for next year. It looks like there will be a whole batch more of these guys once the Leopard Shack merger falls into place.
--I'll leave you with this pic of Sagan doing a no-handed wheelie up the Anlgiru (courtesy Competitive Cyclist):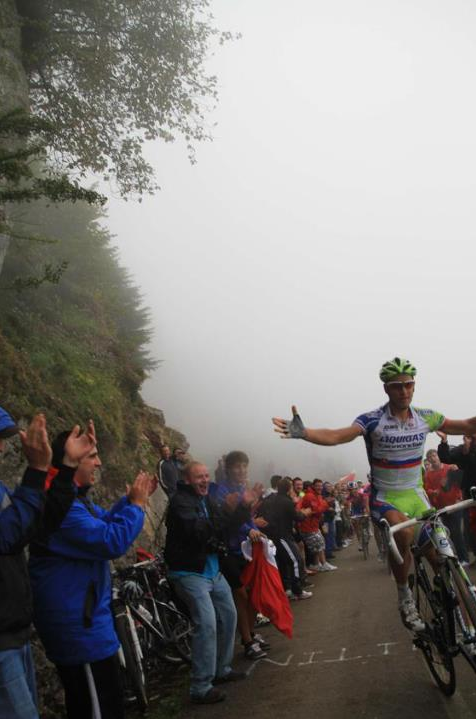 Tweet