--Okay, I got back from Las Vegas Saturday morning sleep deprived and with more fun to be had Saturday and Sunday so I haven't even downloaded the pics I took. I'll get them up soon, though.
A couple of the highlights were CrossVegas, the Sram swag giveaway (they were giving away whole groupos), getting a pair of Q Rings, and a chat with Greg LeMond. I had a great time hanging out with Jim, Wick, and Henry for all those.
--Vino is going to
do one more season
! Looks like he's healed well and ready for another year of bike racing. For those of you who haven't
liked him on Facebook
(
or me
), I highly recommend it. Otherwise you'll miss out on regular updates like this: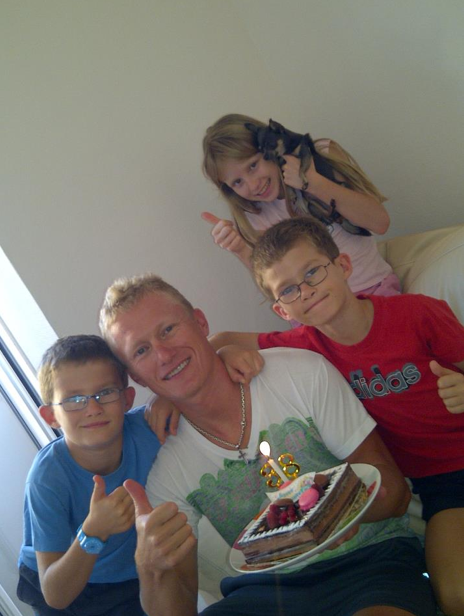 --Looks like Gesink is
out of Worlds
with a broken femur. Meanwhile, Cav and Boom look to be
on form
for Worlds.
--Speaking of Cav, the other day at the Tour of Britain Eisel got off his bike on a climb to
cheer Cav on
! Hilarious!
--The recent
Rasmussen case
has gotten interesting. He looks to be innocent of doping but not of stupidity. Apparently, he's just really disorganized (according to a Tweet by Greg Henderson). Not to say that reporting your future whereabouts three months at a time is easy, but it's your job. Oh, and you can update via email or SMS. That being said, I consider myself pretty organized and if I were to, okay it wouldn't be that hard. The interesting part is that you can screw up two times within an 18 month period and not get busted. That's enough for two flights to St. Moritz.
Also, it looks like there might have been
an error
made by the authorities in the case so he may not get busted. However, the damage is already done because he's been fired by HTC and has lost the two year contract he had just signed with Garmin.
--WADA is considering
a rule change
for clenbuterol (and the steak). This could have some serious implications for Contador's case, not to mention the countless other non-superstar riders who are now out of work for two years.
--I'll leave you with this vid from the Tour of Britain. Check out the funny crash in the last turn (7:50)
Tweet