--First, WADA has
dropped a clenbuterol case
against some Mexican soccer players. This could have some serious repercussions for the Contador case, not to mention the other
less worthy
riders who have been handed suspensions (and in Li's case, has even retired). If other athletes are not being punished for clenbuterol positives, it's likely Contador won't either.
--Second, Bettini is accused of
tipping off a rider
about an upcoming test. This is a pretty serious allegation for the Italian national team coach. The more interesting piece of the article is that Bettini settled out of court for tax evasion. He had been accused of evading 4.5m euros worth of taxes and ended up settling for
2m euros
. No wonder Italy is headed for default...
More than that, this guy made enough to owe 4.5m in taxes? That's serious money for a bike racer. I mean, he was the world champ, but that's still pretty good.
--2012 Tour
route leaked
! Due to a bit of an IT error the route was leaked. Oops.
--In some serious bad news, GreenEDGE has
failed to secure a sponsor
. Gerry Ryan, current sugar daddy of Aussie cycling, said they hadn't found any Australian companies willing to sponsor them. He stated that it wasn't through lack of trying:
"I'm not concerned but my son Andrew whose role is sponsorship, has the greatest incentive to go out there and make it happen because it's his inheritance that I'm spending."
Ouch! I can't say I'm surprised. Now's not the best time to go looking for a cycling sponsors. As if last year's iteration of Aussie superteam wasn't enough warning.
--Cav went to Sky! I was off on my
Specialized prediction
. Looks like the world champ will be riding a Pinarello after all. I'm interested to see what kind of special rig they give him.
--I'll leave you with a pic of team Vino: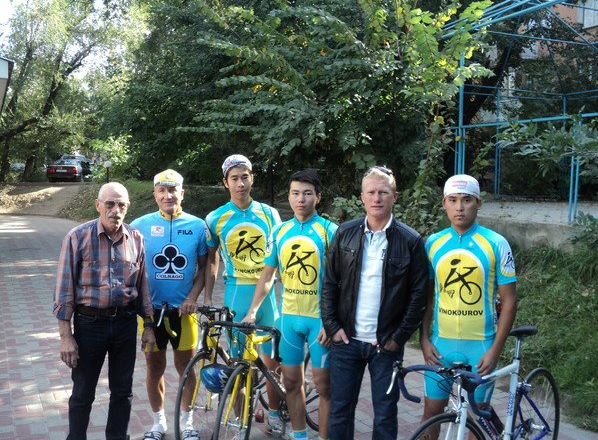 Don't miss the next post,
SIGN UP HERE!
(No Spam, I Promise)
Tweet