--This past weekend Laurens Ten Dam was out in the bay area on vacation. On Sunday
João
invited me up to Point Reyes to have lunch with them.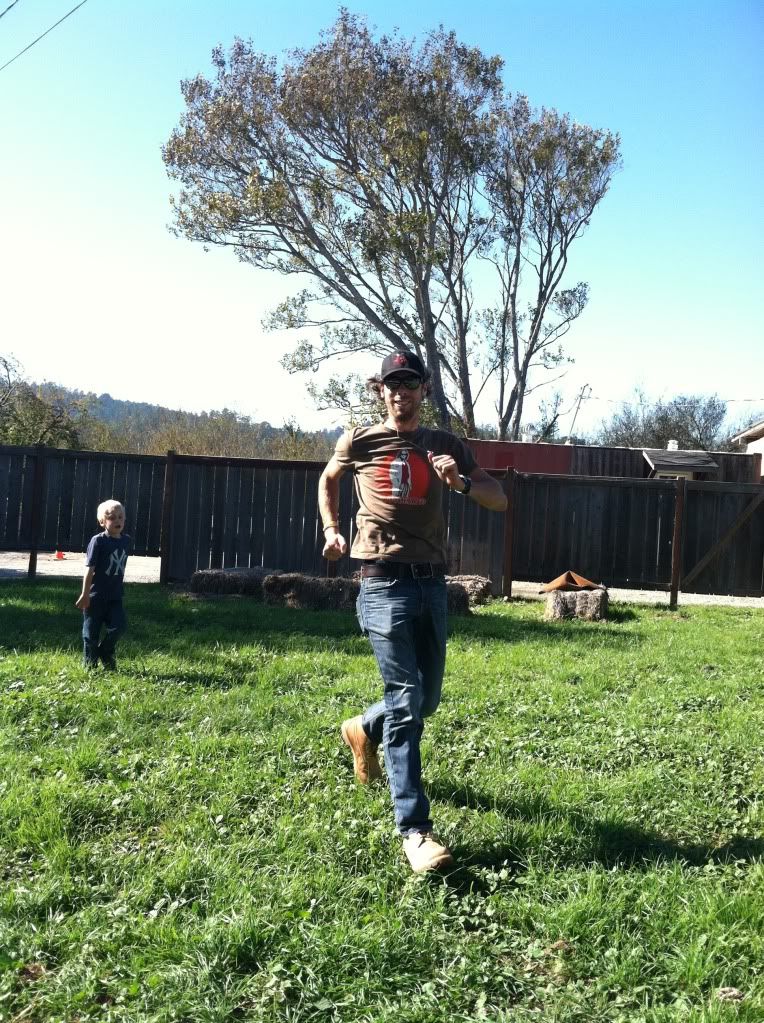 Laurens and Liam (João's son) were playing Star Wars.
--Well, when most guys get caught doping at the Tour, they serve at least a two year sentence. When Kolobnev
gets caught
...six months! Am I crazy? What kind of ruling is that?
--The UCI has released the
Olympic road allocations
. I know there's a story of some political favors in this somewhere but don't have time to investigate. Off the top I see that Kazakhstan was granted two TT places and the US was granted one.
I'm sure there's some justification somewhere for this. Maybe it's off in the meaningless points system that no one cares about until they're applying for a WorldTour license.
--Looks like Garmin almost
had another sponsor
until the deal fell through. Some company named BigMat which I could care less to Google had gotten pretty far down the aisle before pulling out.
--Speaking of sponsors, despite the lack of a title sponsor GreenEdge still thinks it's
two or three years from a Tour GC team
. That's right, and at this moment monkeys are flying out of my butt.
Let's call the GreenEdge team what it is, charity. No title sponsor means it's all Gerry Ryan's money. I mean,
his son Andrew's inheritance
.
I know, I know, everyone thinks it'd be so cool to own a cycling team. So cool in fact you almost want to do it. But for that feeling of owning a team, you'd actually be better off purchasing a title sponsor as almost any other team. Buying out the title sponsor on High Road (HTC) would have been a better investment. Stapleton was looking for 10 million euros (at the time they were worth more) for the title sponsorship.
The reason that's a better investment because in that case you
only lose 10 million euros
. Signing the type of athletes GreenEdge has signed without a title sponsor, that's going to make sponsoring High Road look smart. Especially if this goes on for more than a year, which I don't think it will.
Yes, Gerry Ryan has money, about $180m to be exact. But if he's losing 10% of it a year on a cycling team, that's not going to stay fun long. Even if it's only 5%, after a year young Andrew's going to be saying "Daddy, this isn't fun anymore..."
--There are still a few transfers trickling in, especially with the discord in teams and sponsors this season. Dan Holloway
signed with Rahliegh
for 2012. Here's my
interview with Dan
from earlier this year.
Cyclingnews has
transfer guide
up.
--One guy who won't be transferring anywhere is Carlos Sastre. That's right, the 2008 Tour de France winner is
calling it quits
.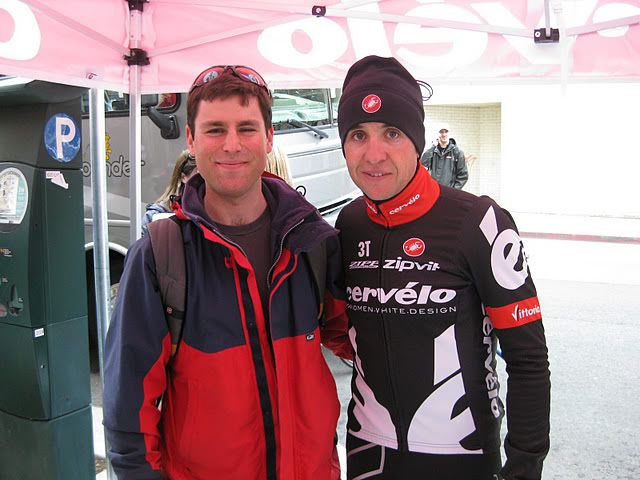 I caught him at the 2009 Tour of Cali prologue in Sacramento. Thanks to the Lance showing, and the fact that he's the only cyclist anyone in America has heard of, there was
unfettered access
to the rest of the peloton.
Like this nobody... Nocent-who?
Don't miss the next post,
SIGN UP HERE!
(No Spam, I Promise)
Tweet