Thinking of take a bike trip soon? Check out Joao Correia's tour company inGamba. Ride like PROs, with PROs.
--Looks like Lance is off the hook and Contador is off the hook (-7 months since his ban is retroactive). Both are down a couple million, though. Lance with Fabiani and his spin mafia and Contador with the fines and salary he'll have to pay back. It's unfortunate that half the drama of the sport is tied up in the courtroom, but come Paris-Roubaix I couldn't care less. Regardless of what any court says, these guys still have to live with themselves. And as we've seen from Landis, that's the real punishment.
Here are some of the reactions:
Liggett
is first to jump back on the Lance train
saying the "whole investigation was a waste of money." Maybe he's trying to pitch his new book "Talking About Cycling, For Way Too Long."
WADA Boss, Fahey says
"Contador is a cheat"
, but goes on to backpedal: "The only argument then comes as to what was the nature of how that prohibited substance got into the athlete's system. But you're a cheat, effectively, the moment you've got that substance in there."
Schleck
still believes in Contador's innocence
and thinks it took way too long.
Cancellara agrees that the whole thing
took way too long
.
In the end, the length of it played to what I believe was McQuaid's ends. It took almost two years so Contador didn't have to take much time off racing. And at the same time it wasn't overturned, meaning they'd have to overturn all the other clenbuterol positives.
And as for Lance, it's come out that
the case was closed rather hastily
leaving some of the other agencies baffled and angry.
--In other news, my buddy Jack Bauer was rocking at Qatar the other day:
Glad to see he's made it to Garmin. We stayed at the same place in Gent
a couple summers ago
.
--I'll leave you with a cool pic of Bernie and Cav: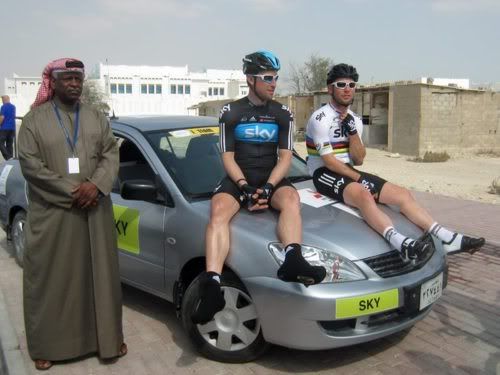 And another awkward one: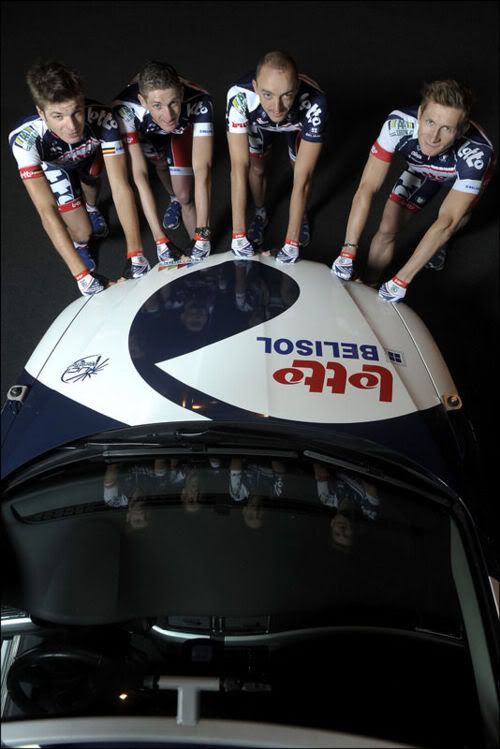 Both courtesy of
The Uphill Shift
.
Don't miss the next post,
SIGN UP HERE!
(No Spam, I Promise)
Tweet